What Is a Lettuce Sandwich?
The term lettuce sandwich can be used to describe one of many different types of sandwiches that use lettuce as an ingredient. In some cases, a lettuce sandwich consists of lettuce and possibly other sandwich fillings placed on or between two slices of bread or inside a bread roll. In other cases, the lettuce itself is used in place of bread and is wrapped around other fillings. In some cultures, a lettuce sandwich is a traditional folk remedy for insomnia.
Many cooks add lettuce to sandwiches, because it provides an inexpensive source of texture and flavor. In many cases, lettuce is one of several sandwich fillings, which may also include meats, cheeses, and other vegetables. There are some recipes in which the lettuce may be a primary ingredient. For example, watercress lettuce sandwiches are often served at traditional afternoon teas either alongside or in place of cucumber sandwiches. In the United States, iceberg lettuce is frequently used in sandwiches, but other lettuces, including romaine, are also popular. Perhaps the most famous lettuce sandwich in the United States is the bacon, lettuce, and tomato sandwich, better known as the BLT.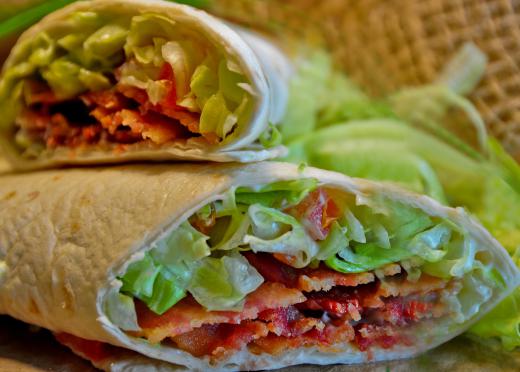 Some Asian cuisines include dishes that involved wrapping hot, seasoned meat in lettuce and then eating the little package as finger food. In many places, concern about eating too many carbohydrates or fear of exposure to gluten has led to home cooks and restaurants alike to borrow and modify this Asian concept by preparing a lettuce sandwich that is composed of sandwich ingredients wrapped in a large lettuce leaf. More commonly known as lettuce wraps, this type of sandwich is often sold at sandwich specialty shops in order to attract customers who are otherwise trying to avoid bread. A lettuce wrap also has the advantage of typically having fewer calories than a traditional sandwich. Some establishments, however, offer an alternative to a lettuce wrap, which can easily fall apart, by simply incorporating the fillings from any sandwich on their menu into a traditional salad with lettuce as its base.
As lettuce does not have much in the way of calories, people generally do not eat sandwiches that consist entirely of bread and lettuce. An exception to this is when an individual is having difficulty falling asleep. In some cultures, lettuce is considered to be a good sleep aid, particularly when paired with high-carbohydrate bread. Individuals may be encouraged to eat a lettuce sandwich, sometimes paired with other starchy ingredients, at bedtime in order to encourage restful sleep.
AS FEATURED ON:
AS FEATURED ON:

By: D. Loren Keith

A BLT wrap sandwich features lettuce in a prominent role.

By: Photographee.eu

Some cultures believe a lettuce sandwich is a better option than medications for treating insomnia.

By: mates

A lettuce sandwich can also be made with spinach.

By: Profotokris

A lettuce sandwich may feature other vegetables, such as tomatoes or onions.