What Are the Best Tips for Making Gluten-Free Wraps?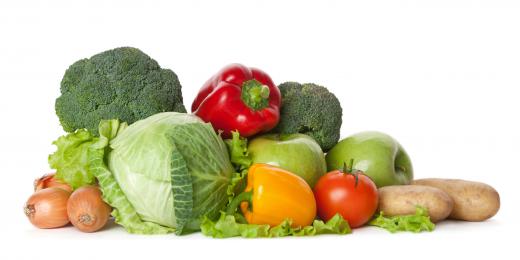 For those restricted to one, a gluten-free diet is both a challenge and a learning process. Individuals suffering from celiac disease or gluten intolerance can not eat foods containing gluten, a protein found in certain grains like wheat, barley and rye. The problem stems from an inability to digest the protein, which interferes with the digestive system and can impact the absorption of certain nutrients. The biggest culprits are processed food products and breads. Hence, the challenge of making gluten-free wraps and sandwiches.
The primary consideration when making gluten-free wraps is the wrap itself. Typically, the wrap is made of various meats, cheeses, and vegetables encased in a flour tortilla. The flour is typically wheat flour, and thus off limits to those living gluten-free. There are essentially two options to create a gluten-free wrap: make the tortilla or wrap from scratch or buy them prepared. Making tortillas involves a great deal more work, but because homemade often tastes better it may be worth the effort for those who enjoy cooking. Search for recipes that use a variety of different gluten-free flours, like rice and millet flour, and experiment using your own knowledge and experience.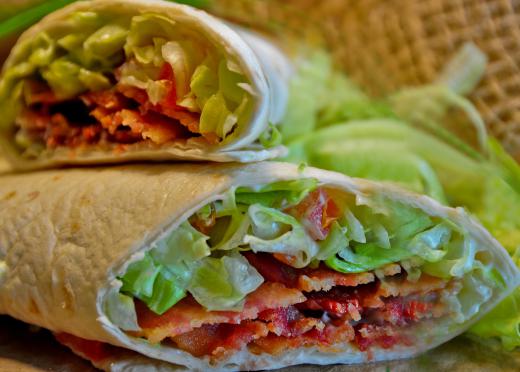 If the idea of making wraps is daunting, it is fairly easy to find gluten-free wraps at your local health food store. A couple of options are available, including specialty products made with teff and millet. These grains tend to produce a softer, more pliable product than corn, but corn tortillas are often less expensive and easier to find. The biggest issue with using corn tortillas as the base for gluten-free wraps is their stiffness. To make a corn tortilla more pliable, and thus better suited for building a wrap, heat the tortillas in a pan or the microwave.
Once a decent substitute for the traditional wheat flour tortilla or wrap is found, making gluten-free wraps is a breeze. Pile a selection of favorite vegetables, meats, and cheeses and roll them up. Wraps are great options as a sandwich substitute and also make for a decent breakfast when eggs are included. Served with a side of fruit, wraps make a complete meal. One word of caution when creating gluten-free wraps is to pay attention to the sauces and seasonings used. Many salad dressings, sauces, and seasonings contain malted vinegar or modified food starch that may come from wheat, rather than corn or potato. Opt for natural ingredients or use only those sauces and dressings that are acceptable in a gluten-free diet.


By: Karramba Production

Vegetables are typically gluten-free.

By: Studio Gi

Gluten-free wraps cannot include wheat flour, so other flours must be used instead.

By: D. Loren Keith

Gluten-free tortillas are increasingly available at grocery stores.

By: Motive

Used as an alternative ingredient for wraps, teff is a small, gluten-free grain that can be used in breads and cereals.