What Is a Chicken Salad Wrap?
A chicken salad wrap is a dish made by mixing shredded chicken with other ingredients and serving this filling inside a tortilla or piece of flat bread. Making chicken salad wraps can be a good way to use leftover cooked chicken, and many recipes allow for variety in chicken salad wrap ingredients. Many cooks also like chicken salad wraps as a healthy option for lunch or snacks.
Chicken salad wrap recipes often contain low amounts of saturated fat and cholesterol. They can also be popular additions to a low-carbohydrate eating plan because the thin flat bread is not as dense as the thicker breads often used for sandwiches. Cooks who are trying to reduce foods with white flour can choose whole wheat or vegetable-based tortillas for their wraps instead.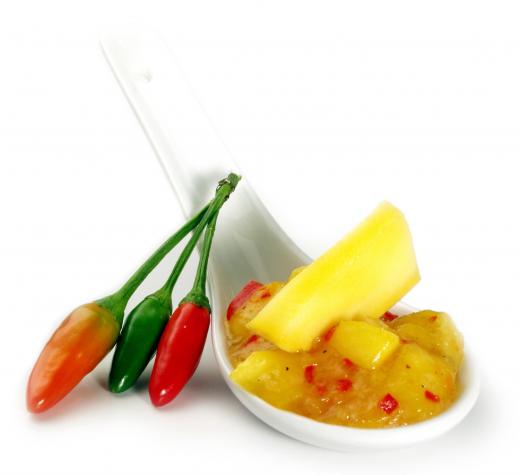 A crunchy chicken salad wrap is typically a nutritious one with plenty of chopped vegetables. These ingredients can include shredded lettuce, chopped carrots, bean sprouts, or diced cucumber. Making one of these wraps with fresh vegetables can be a flavorful way to get the recommended daily amounts of nutrients such as fiber, potassium, and vitamin A. Favorite toppings for this type of wrap recipe can include ranch dressing or mayonnaise flavored with lemon juice.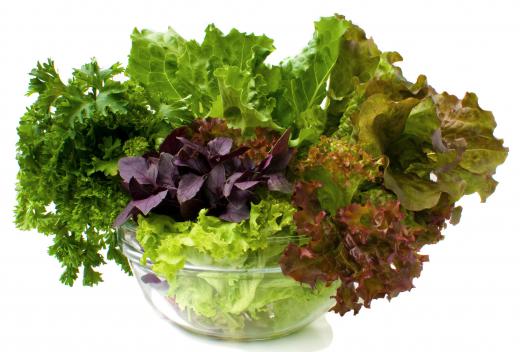 Many cooks also add sauces to their fillings for chicken salad wraps. A Santa Fe chicken salad wrap is typically made with salsa, chopped cilantro, and shredded Mexican-style cheese. The finished wrap can be mild or spicy depending on the cook's choice of salsa. Some cooks also like to use guacamole as a spread for this kind of wrap.
Curried chicken salad wraps are additional flavor options for this type of recipe. Ingredients for these wraps usually include curry powder, sour cream, diced onions, and chopped nuts such as pecans or almonds. This chicken salad wrap can also be a spicier version of a crunchy vegetable wrap with ingredients such as chopped red lettuce and shredded carrots. Some cooks also like to mix in a small amount of mango chutney for added sweetness.
A good number of wrap recipes call for fresh chicken pieces, although canned chicken is a viable alternative. Some cooks prefer roasted chicken, while others like to mix in pieces of fried or pan-seared chicken. One of the more common methods of preparing chicken for wraps is to make sure it has been cooked until tender before shredding it into small pieces with the tines of a fork.
AS FEATURED ON:
AS FEATURED ON:

Mango chutney, which can be served in a chicken salad wrap.

By: NataliTerr

Salad greens.

By: Christian Jung

Chicken is a key ingredient in chicken salad recipes.

By: Brad Pict

Guacamole can be used as a spread in a chicken salad wrap.

By: Jiri Hera

Flour tortillas are commonly used to make chicken salad wraps.

By: Monkey Business

Curried chicken can add extra flavor to a salad wrap.