What does a Catering Coordinator do?
A catering coordinator manages the catering department of a restaurant, grocery store, food service provider, or special events company. He or she is usually in charge of the organization and scheduling of catered events for clients, and may be the public face of catering operations for the company. A successful catering coordinator may need excellent personal skills, experience with management and supervision, and a clear understanding of the world of catering.
It is fairly unusual for a catering coordinator to serve as a chef; the function of the job tends to be more administrative in nature. It may be important to possess creative skills, however, as it allows a coordinator to help clients see options and make decisions for their catered event. The biggest part of a coordinator's job is the set-up and execution of events, which may range from small affairs, such as a private dinner for a family to gala openings, film premiers, or society weddings.
When a client comes to a catering coordinator looking to set up an event, the coordinator will typically sit down and discuss the parameters of the specific situation. Important things the coordinator may need to know include what type of event it is, how many people are attending, if there is a theme or atmosphere desired, and what the customer feels is a good budget range. Using in-depth knowledge of the company's catering menu, the coordinator can help the client craft the perfect menu for the event. In some cases, this may include tastings of the possible dishes to let the client review the skill and quality of the chefs.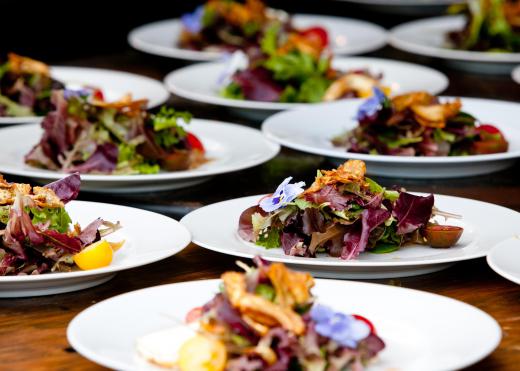 Once an order is received and processed, the coordinator may be in charge of getting a catering team together to manage the event. This may include waiters, bartenders, servers, and prep chefs, all of which may be under the direction of the catering coordinator. Usually, the coordinator can draw from the staff of the company, or may have a contact list of good waitstaff that may be hired on a daily basis. In some cases, the coordinator may also be in charge of readying items related to catering, including chairs and tables, linens, floral centerpieces, flatware, and dishes.
A catering coordinator may or may not oversee delivery, set-up, and execution of the event. In a large company, these duties may be handled by a manager instead, leaving the coordinator free to ready other events and continue the day to day work of meeting with clients. With a different event or even several events on many days, the working life of a catering coordinator can be quite exciting.
AS FEATURED ON:
AS FEATURED ON:

By: Tyler Olson

A catering coordinator is responsible for managing a catering team, including waiters, at an event.

By: Eric Limon

A catering coordinator may or may not oversee delivery, set-up, and execution of the event.

By: lester120

Catering coordinators work with chefs to set menus.

By: malexeum

Catering coordinators rarely prepare foods and instead perform administrative roles.