What does a Cardiac Nurse do?
Cardiac nurses care for patients who have heart problems. For example, while working with a cardiologist, these nurses might help treat patients who have heart problems, such as congestive heart failure, cardiac dysrhythmia, myocardial infarction, cardiomyopathy, or angina-related problems. In addition, the nurse might also be involved in doing stress tests, heart monitoring, general health assessment, or postoperative care. Cardiac nurses also do tasks such as monitoring of electrocardiograms, defibrillation, and giving patients medication via intravenous drips.
People work as cardiac nurses in many different settings. For example, they might work in intensive care units (ICU) in hospitals, cardiac rehabilitation units, coronary care units (CCU) in hospitals, catheterization labs, or other heart-related medical settings. Some nurses might choose to work as professors in nursing schools or medical schools. Scientific companies also employ them in medical research.
In order to become a cardiac nurse, a person usually needs a four-year nursing degree to first become a registered nurse. Pursuing a nursing major can be competitive, and in order to distinguish themselves from the competition, students may need to earn a high grade point average (GPA). Many prospective employers will want to see a high GPA because it shows that the student has the ability to learn the medical concepts needed to successfully function on the job as a nurse.
People who work in this field must get certification in Basic Life Support (BLS) and Advanced Cardiac Life Support (ACLS). Basic Life Support helps health care professionals learn to recognize medical emergencies, learn CPR, and learn how to respond to various kinds of medical emergencies. The ACLS course enables health care professionals to improve their skills in helping patients who have cardiac arrest or other cardiac emergency experiences.
Some cardiac nurses get cardiac/vascular nurse certification by passing the cardiac nursing exam, such as the one given by the American Nurses Credentialing Center (ANCC). A Master of Nursing (MSN) degree, or its equivalent, can also be helpful for anyone interested in this profession. The MSN degree includes coursework such as nursing procedure, nursing research, and other nursing-relevant coursework. Prospective employers find the degree impressive because it demonstrates the nurse's willingness to acquire expertise, and it indicates that he or she has stamina and persistence.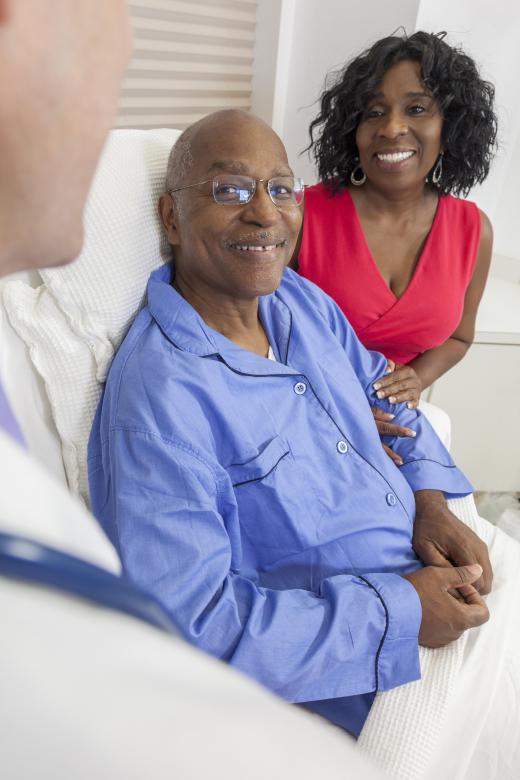 Pursuing a career as a cardiac nurse is a good career choice for those who want to make an immediate positive impact on the quality of patients' lives. Nurses must have the right personality characteristics to do this career. For example, it is useful for this type of nurse to be able to stay calm under pressure, and have good interpersonal and analytical skills.
AS FEATURED ON:
AS FEATURED ON:

By: grieze

Cardiac nurses are often in charge of giving medication to heart patients.

By: michaeljung

Cardiac nurses check on and change patients' IVs when necessary.

By: jovanmandic

Cardiac nurses monitor stress tests in patients who have heart problems.

By: spotmatikphoto

A cardiac nurse needs excellent communications skills when dealing with patients and caregivers.

By: kmiragaya

A cardiac nurse may help treat patients who have angina-related problems.

By: Tyler Olson

A cardiac nurse may choose to work in an intensive care unit.