What does a Book Publicist do?
A book publicist is typically employed by a publishing house, and it is his or her responsibility to generate media interest in a new book. he or she ultimately wants journalists to write pieces about the author and his or her book, in order to increase public interest and sales. The job is a combination of the marketing and publishing fields.
Typically, there are no formal educational requirements to become a book publicist. The job involves a lot of communication and writing, so some publicists may choose to pursue degrees in English, journalism, marketing, or communications. It is necessary for a publicist to be assertive, outgoing, knowledgeable in his or her field, and of course someone who enjoys reading.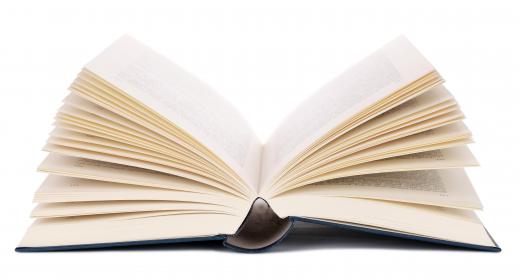 A book publicist will likely be assigned a book, or set of books, months in advance, and he or she will then be responsible for creating a publicity campaign surrounding the book. A large part of a publicist's job is creating press releases for new books. These press releases are then sent to various media outlets in the hopes that they will write about it. For this reason, it is important for a book publicist to develop contacts in various media outlets, as well as to fully understand the way the media works. For instance, a magazine needs much longer lead time before publishing a story than a newspaper, which can publish a story within a day.
In addition to generating media buzz about the book, a book publicist may also be responsible for setting up book tours and book signings for authors. The publicist will need to work with the author and his or her schedule, as well as determine the schedules in various locations or bookstores where the author will be traveling. In addition, the publicist may need to set up travel arrangements, such as hotel stays, airline tickets, or rented cars, to name a few.
Once the tour has been set up, the publicist may then begin creating promotional materials, such as fliers and advertisements. The publicist will probably need to work with other departments fairly frequently, such as the art and design department. He or she will also likely have a budget, and need to stay within that budget while creating publicity for the book. For outgoing people who enjoy working with others, and who want to work in the publishing field, a career as a book publicist can be an excellent choice.
AS FEATURED ON:
AS FEATURED ON:

By: Markus Mainka

Book publicists promote new releases to the media and public.

By: anyaberkut

A book publicist will likely be assigned a book, or set of books, months in advance.

By: Monkey Business

An aspiring literary publicist should work as an editor or editorial assistant.

By: Andrzej Tokarski

Book publicists help books get into stores for sale.

By: WavebreakmediaMicro

Book publicists work to convince bookstores to carry their client's book.

By: bramgino

Working as a book publicist requires a large amount of writing.