What Causes Recurring Strep Throat?
Strep throat is a term used to describe streptococcal infections caused by bacteria in the mucus membrane that lines the pharynx. Recurring strep throat occurs when a person gets several bouts of strep throat in a short period of time. Having an incidence of the infection more than six times in one year can be cause for concern. Causes of the chronic illness include living in an environment that is contaminated by the bacteria, not completing an antibiotic treatment, and having a weak immune system.
A sore throat that is red and contains tonsils spotted with white dots is the most common symptom of strep throat. Other symptoms include rashes on the body and skin infections. A recurring bout of strep throat causes much discomfort in the patient as well as missed school and work. If it is severe enough, surgery may be needed. Surgery, however, does not guarantee that the person will not get strep throat again.
Many cases of recurring strep throat are caused by bacteria that are present in the person's environment. Even if he or she undergoes successful treatment, the infection may recur because the bacteria is still present in the household. The bacteria may be found on the person's belongings, such as on bed linens. Doctors recommend disinfecting the house if chronic strep throat is a problem.
Not administering antibiotics properly is also a cause of recurring strep throat. Often when a patient who is being treated for strep begins to feel better, he or she will stop taking the prescribed antibiotic. Doctors warn that every pill or ounce of liquid of an antibiotic must be taken in order for the bacteria to be completely expelled from the body. Completing the antibiotic regimen will also strengthen the immune system and help fight future infections.
A weakened immune system can also result in recurrent strep throat. People suffering from HIV/AIDS, those who are undergoing chemotherapy treatment, or patients who have undergone organ transplants are at risk. Doctors will monitor these patients closely and advise them to practice good hygiene in order to avoid coming into contact with the bacteria.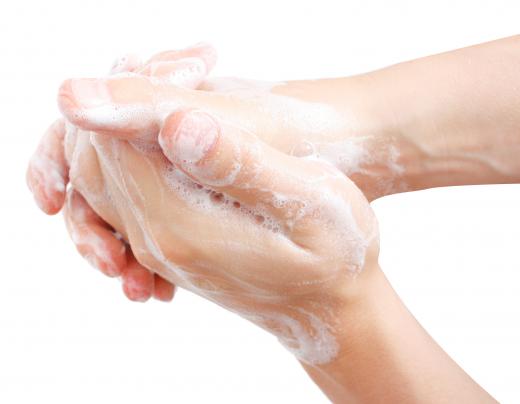 Steps to help prevent strep throat from recurring include washing hands frequently and using antibacterial soap. This is recommended before and after every meal, after using the bathroom, and when spending time in a public area. Doctors also recommend not sharing drinks or eating utensils as well as staying away from those who are sick. Areas that are crowded, especially with children ages five to 15, are more prone to breeding the bacteria that causes the infection. Avoiding these areas will reduce a person's chances of getting strep throat.


By: pixelcaos

A crossection of the human head, including the throat.

By: Artem Furman

A severe sore throat may be a sign of strep throat.

By: xy

Bacteria remaining on uncleaned bed linen or other belongings can cause a recurrence of strep throat.

By: svitlana10

If someone suffering from strep throat does not finish all of his prescribed medication, the infection might not be eradicated.

By: JPC-PROD

Someone with an already weakened immune system, such as a chemotherapy patient, can be more at risk of suffering a recurrence of strep throat.

By: Lasse Kristensen

Regular hand washing can help prevent the recurrence of strep throat.

By: Jezper

Strep throat bacteria may contaminate a living space and re-enter the body after one has been treated, causing another strep throat infection.

By: NorGal

Completing a full course of prescribed antibiotics can strengthen the immune system to fight against future strep infections.