What are the Different Ways to Treat a Scratched Eyeball?
Though a scratched eyeball can be alarming, the majority of cases can be treated within days, sometimes without leaving the house. The first step is to flush out the eye with water in order to remove any debris that may have caused the scratch. Removing pain and swelling is possible through a cold compress, followed by wearing sunglasses when outside to protect the eye as it heals. More severe scratches may require a trip to the doctor, who can diagnose the scratched eyeball and prescribe antibiotics to help it heal.
Symptoms of a scratched eyeball include blurred vision, excessive tears, redness, pain, irritation, sensitivity to light, and the sensation that there is something in the eye. If any of these symptoms are felt, it is important to flush out the eye with water. This can be done by leaning over a sink and scooping water into the hands to pour into the eye, or even filling a sink with water and placing the head in it with the eyes open. Adding salt to the water can also help flush out any debris that may be causing damage. It is important to remove any contact lenses before flushing the eye with water.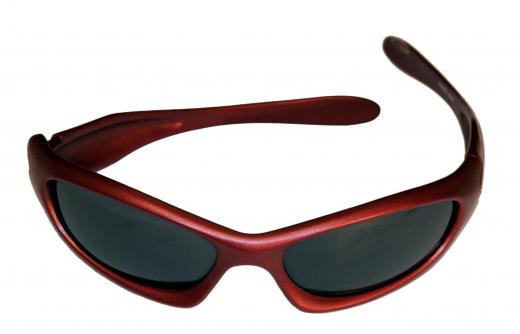 Once it is likely that the debris has been removed from the scratched eyeball, it is usually soothing to place a cold compress over the eye, as this will reduce inflammation and general irritation. Since the eye is likely sensitive to light, wearing sunglasses when outside can help reduce excessive tearing when exposed to the sun. In fact, it will likely be necessary to wear sunglasses outside just to see, since a scratched cornea can make it difficult to keep the eye open at all, let alone when outside. It may even be necessary to dim the lights when inside.
If these tips for treating a scratched eyeball do not seem to help reduce inflammation and discomfort, the scratch may be too severe or infected for home remedies. An ophthalmologist can use a special dye to temporarily stain the eye so that the debris in question can be located and removed. This kind of doctor can also prescribe antibiotic eye drops so that the eye can heal faster, though this treatment is also good to relieve pain since it tends to numb the eye. In some cases, it is necessary to get an eye drop that can dilate the eye so that it can deal with light while healing. Additionally, some severe cases of scratched eyeball require narcotic pain medication until the damage has healed, which usually takes a few days.
AS FEATURED ON:
AS FEATURED ON:

By: Thorsten

Wearing sunglasses can help protect a scratched eyeball.

By: Subbotina Anna

Treating a scratched eyeball can often be done without leaving home.

By: kocakayaali

If an individual's cornea is scratched, it may be difficult to keep the eye open, especially in bright light.

By: Chepko Danil

Excessive tears are common with a scratched eyeball.