What are the Different Types of Sock Yarn? (with pictures)
Sock yarn is knitting yarn used to knit socks. Sock yarns are available in different types and thicknesses. The thicker the yarn used, the thicker the finished knitted socks will be. Some knitters look for discount yarn to use for knitting socks.
Since a pair of socks is a fairly small thing to knit, different colors and types of discount yarn could be used rather than a specific sock yarn. However, it's important to use yarn of the same weight or thickness to complete the pair of socks. Otherwise, a bumpy texture may be created and this may affect the comfort level when the socks are worn inside shoes. Variegated or multicolor yarns can create the look of texture in knitted socks while giving a smooth finish.
Yarns labeled specifically as sock yarn are often of fingering weight. Fingering weight yarns are lightweight and are similar to the baby weight yarn type. Fingering weight sock yarns tend to show intricate stitching so the patterns of knitted socks can be quite intricate. Knitted socks made from baby or fingering weight wool sock yarn are popularly made in infant as well as adult sizes. Wool socks help keep feet warm even if they get wet, and many wool sock yarns available today are machine washable.
Cotton and bamboo sock yarns are said to be cooling on the skin and they are popular for knitting lightweight socks for warm weather. Tweed sock yarns are made from fingering wool and are textured to be suitable for cooler weather. The color is two-toned and the texture is roughly spun, yet consistently even like that of tweed coats. Tweed sock yarn is the traditional type used for knitting men's dress socks.
Hand-dyed sock yarn is vivid and colorful. Hand-dyed sock yarns are often found in pattern kits and a sock kit may contain hand-dyed yarn for knitting thin, lacy socks or for heavy, wool socks. The streaks of colors created when hand-dying yarn is unique and there are no dye lots. A dye lot refers to balls of yarn that were all dyed in the same batch to create color consistency. The whole concept of knitting socks with hand-dyed yarns is to form a one-of-a-kind, colorful sock.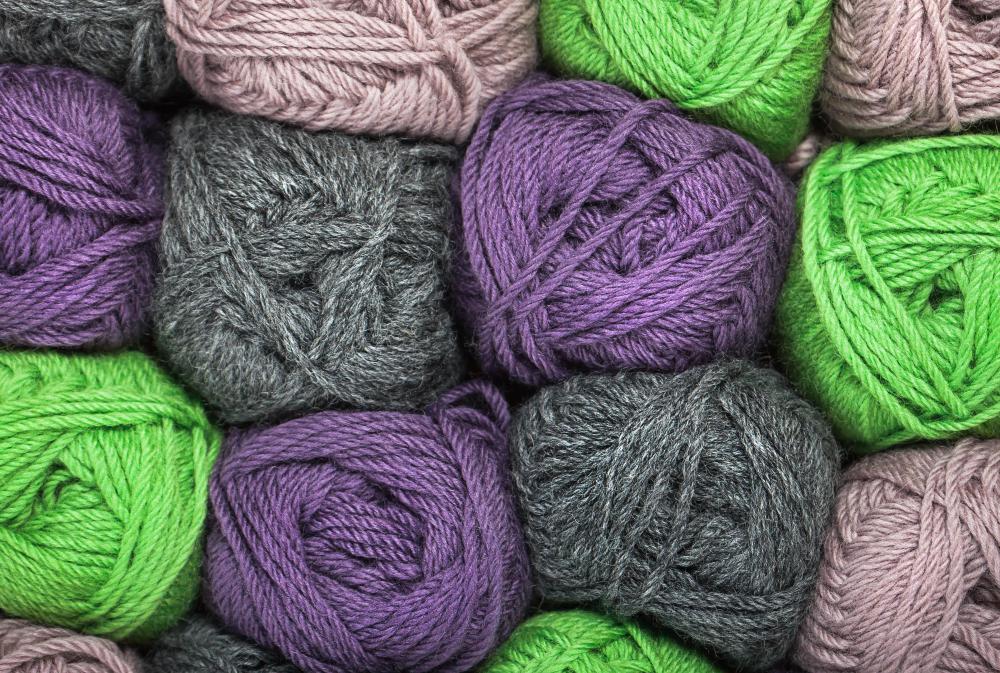 Leftover, partial balls of sock yarn may be used alternately to knit socks with a striped pattern. While socks knitted with natural yarns such as cotton, bamboo or wool are usually the most desirable for comfort and feel, sock yarns that contain some acrylic fibers often add a little stretchiness to the socks which some people like. Hand-knit socks tend to make wonderful and much appreciated gifts no matter which type of sock yarn is used.
Yarn for knitting.

Wool socks help keep feet warm even when wet.

Hand-dyed yarn is usually very colorful.

Fuzzy yarn is often used to make fun winter clothing items, like fuzzy socks.

Yarns used to make socks come in many colors, types, and thicknesses.