What Are the Different Types of Parsley Salads?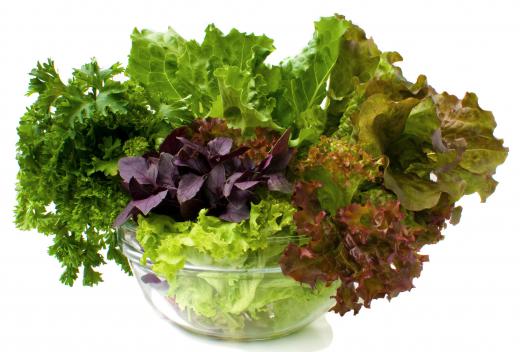 Different types of parsley salads abound, from those with just a few ingredients like parsley potato salad, to those which require more intricate preparation, such as lemony rice-parsley salad. Parsley salads lend themselves to a variety of flavor and vegetable combinations, such as those found in a mint and parsley salad with Persian cucumbers. They frequently feature dressings containing lemon juice and olive oil, such as the dressing that adds flavor to a cucumber, onion and parsley salad.
Lemons and olive oil are common ingredients in many parsley salads. Parsley and preserved lemon salad features olive oil, mint leaves and preserved lemons. The preserved lemons can be made at home or found in Middle Eastern and gourmet food shops. Radish and parsley salad with lemon features radishes, celery and parsley leaves tossed with lemon juice, olive oil and salt.
Parsley salads can be made with Italian parsley, lemon juice and honey. Flavor is added by mixing in walnut oil, sesame oil and toasted sesame seeds. Mint and parsley salad with Persian cucumbers features a handful of mint leaves and bite-sized pieces of Bibb lettuce. The Persian cucumbers are thinly sliced and the salad is tossed with salad dressing.
Some parsley salads are served warm. Lemony rice-parsley salad features arborio rice and flat-leaf parsley leaves. After preparing the rice, it is tossed with capers, sweet Italian frying pepper and olives. The salad is served warm with wedges of lemon. Parsley potato salad features boiled and sliced potatoes topped with parsley, olive oil and white wine vinegar. The salad is served warm.
Like many types of parsley salads, the chickpea, carrot and parsley salad can be served as a main dish or side dish. It can be made in advance and features chickpeas, coarsely-chopped parsley leaves and shredded carrots. Radishes, scallions and lemon add even more flavor to this salad. Cucumber, onion and parsley salad has olive oil and lemon juice mixed in with the salad's vegetables, and it is topped off with sprinkles of feta cheese.
Parsley can serve as the main green leafy vegetable of a salad instead of lettuce. Make heavier parsley salads using curly parsley leaves topped with scallions, cherry tomatoes and mushrooms. The salad can be topped off with a Dijon mustard and wine vinegar dressing and toasted pine nuts.
Many parsley salads lend themselves to be served as vegetarian dishes. A common vegetarian parsley salad is a Lebanese dish called tabbouleh that features wheat berries, onions and tomatoes. The wheat berries are cooked and added to the dish at the end. The cold salad can be modified to individual preference by adding cucumber, mint leaves or olives.


By: NataliTerr

Salad greens, including parsley.

By: Roman Ivaschenko

White wine vinegar, which can be used to top parsley salad.

By: Jiri Hera

A warm parsley salad can include arborio rice.

By: alex555

Fresh parsley is commonly used to garnish food.

By: Anna Kucherova

Lemon juice and mint are both typical parsley salad ingredients.

By: anjelagr

Parsley potato salad is typically dressed with a vinaigrette and served warm.