What are the Different Types of Osteoporosis Medication?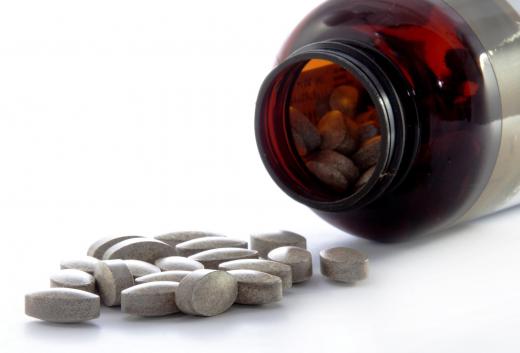 Osteoporosis is a condition in which the bones become weakened and brittle. In severe situations, even simple tasks like bending at the waist or even coughing can cause a bone to snap. Fortunately, there are several types of osteoporosis medication on the market today, making it possible to at least partially restore strength to the bone tissue.
One family of osteoporosis drugs is known as bispohosphonates. While helpful with people of all ages and genders, medications in this group are especially helpful for men or anyone who has developed osteoporosis as a result of the use of steroids. Bisphosphonates help to increase bone density as well as reduce the chances for fractures. There are a few common side effects, including nausea and some pain in the abdomen. Available as both oral medication and through intravenous infusions, this particular osteoporosis medication seems to be especially effective with increasing bone density in the hip and lower spine, as well as in the jaw.
Another option in osteoporosis medication is raloxifene. Belonging to a class of medication known as selective estrogen receptor modulators, this drug tends to act on bone tissue in the same manner as estrogen. However, it does not carry many of the same risks as those associated with estrogen therapy. For this reason, women who are suffering with osteoporosis may find raloxifene to be an ideal solution. However, there are a couple of notable side effects, such as the occurrence of hot flashes and an increased potential for developing blood clots.
Calcitonin is unique among different types of osteoporosis medication, in that it is usually administered as a nasal spray. However, people who experience extreme irritation of the nasal passages can also obtain this drug via injection. Not considered to be as strong as bisphosphonates, calcitonin is still very effective with preventing bone loss and thus helping to prevent weakening and fractures along the spine.
For men and women who are at a high risk for fractures, teripatatide is often the recommended treatment. This osteoporosis medication focuses on the stimulation of new bone tissue, rather than attempting to slow bone loss, as is the case with many other options. This drug is administered via a daily injection, and currently appears to have very few side effects. However, research into the long-term effects of this medication is still underway.
Often, various types of osteoporosis therapy accompany the use of medication. This can include hormone therapy that is administered orally or even delivered as a patch or epidermal cream. Osteoporosis supplements, such as calcium combined with other minerals and vitamins designed to nourish the bone tissue, can sometimes be used along with an osteoporosis medication. Before initiating any supplementary treatment for this condition, talk with your physician about any possible interactions or other negative effects.


By: compuinfoto

Osteoporosis supplements typically include calcium, along with vitamins and minerals that help the body absorb it.

By: kirillica

Some osteoporosis medications are administered via a nasal spray.

By: Alila Medical Media

Osteoporosis is a condition that results in weakened and fragile bones.

By: michaeljung

Osteoporosis can limit mobility and independence.