What are the Different Types of Homemade Face Masks?
Though caring for facial skin can involve expensive treatments in salons and spas, getting a pampered glow can be as simple as making homemade face masks from ingredients in the kitchen or bathroom. Just as there are different types of complexion concerns — dry skin, large pores, oily zones, and others — there are varied homemade face masks for addressing them. Even those men and women with clear, enviable skin can typically improve the radiance of their facial tone with a few simple mixes. Homemade face masks can be created in innumerable combinations and can be applied cold, warm, wet, crumbly, or finely mixed. They can be left on the skin for either a few minutes or overnight to achieve the desired results.
Some common ingredients of homemade face masks include fruits and vegetables, such as bananas, cucumbers, strawberries, lemons, and avocados; raw eggs in whole or part; honey, oats, yogurt, milk, and oils; and powders and spices from common sugar to turmeric. An assortment of medicine cabinet spot treatments and folk remedies is also used: toothpaste is believed to dry blemishes; aspirin can be ground and made into pastes for shrinking pores and exfoliating; and aloe vera may be applied to calm redness and cool skin sensitivity. Even hemorrhoid creams are used to reduce under-eye puffiness and milk of magnesia is used to prep and smooth skin for makeup applications.
Applying a thin layer of yogurt mixed with banana and oats can bring extra moisture and plumpness to skin in dry climates. Honey with lemon can clarify pores and brighten the whole face. Egg whites can tighten the skin and reduce dark spots.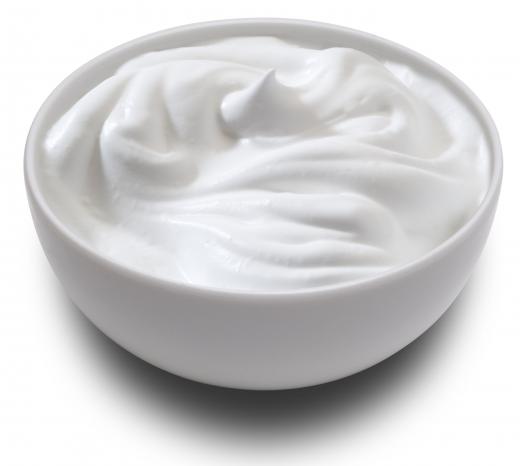 Olive, grape seed, almond, jojoba, and essential oils are some commonly used mixing agents or solo treatments for homemade face masks that provide deep cleansing and moisturizing. Cucumber slices and purees can refresh tired eyes and complexions. Adding sugar, cornmeal, or baking soda to moist ingredients can create an effective exfoliator that removes dry top skin layers and boosts the absorption of moisturizers.
A vast array of recipes for homemade face masks can be found on Internet beauty and skin care websites, and numerous books and magazines print concoctions for improving skin appearance at home. Finding a needed boost for skin health, however, can be as simple as taking common-sense stock of kitchen and bath inventories. Getting creative with scents and textures and relaxing with a slathered face can heighten the expectations of how the skin will look and feel when it is unmasked.
AS FEATURED ON:
AS FEATURED ON:

Yogurt can be used to make a face mask.

Cornmeal can exfoliate skin.

By: Jaimie Duplass

Honey can be used in facial masks to relieve dry skin.

By: Nikolai Sorokin

Bananas can be used to make a homemade face mask.

By: cedrov

Aloe vera is a common ingredient in masks designed to relieve inflammation.

By: Richard Villalon

Avocados can be used in a face mask.

By: Warren Goldswain

Face masks are used to hydrate the face.

By: Angel_a

Under-eye puffiness can be treated with hemorrhoid cream.

By: eAlisa

A homemade face mask can be made with oats.

By: bit24

Sugar is a natural exfoliant that is often used in homemade face masks.

By: food pictures studio

Cucumbers are often used in cleansing masks due to their powers of hydration.

By: LanaK

Avocado is intensely moisurizing.