What are the Different Types of Home Security Equipment?
There is a vast array of home security equipment available to fit any budget. A homeowner can install dead bolts and security lights for inexpensive yet effective protection. Another option for homeowners is to hire professionals to install a complex, computerized system that will alert law enforcement and security personnel of any breach in security. Door and window alarms, motion sensors and security cameras are important components of home security equipment that can help prevent burglary and home invasion. Pool alarms are also available to notify the owner if a child or unauthorized person is in a swimming pool.
There are many types of door and window alarms available that range from the very simple to the extremely complex. The easiest type of door or window alarm to install is one that sounds a loud warning when the window or door is opened. The more complex systems may have control panels and computer programs that will monitor the pressure of the glass. If someone breaks the glass, an alarm will sound, and/or the security monitoring company and police department might be notified, depending on whether a commercial security monitoring system has been installed.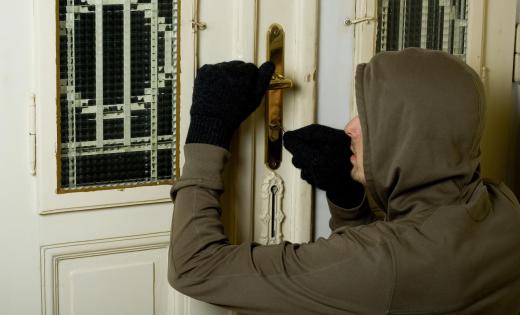 The goal of home security equipment is to prevent or deter an invader from entering the home, so motion detectors can be placed on the outside of the house. Wireless driveway alarms that will send a signal to indicate the presence of an intruder are easy to install. Motion sensor lights will give a visual indication that something is moving in the yard. The most advanced systems provide motion detection both inside and outside the home and are sensitive enough to differentiate between the motion of a person and that of a small animal.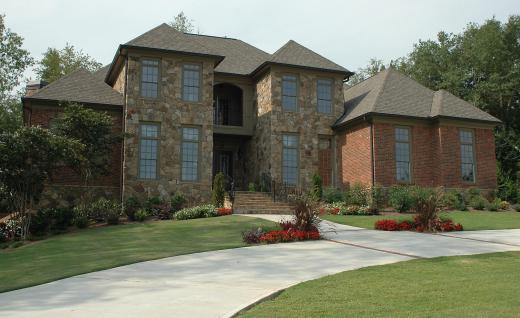 Surveillance cameras can be installed both inside and outside the home. These are often used in combination with motion sensors. With this combination of home security equipment, the cameras will record only when motion is detected, saving both time and storage.
Some people place fake home security signs on their property to fool thieves into thinking that a security system has been installed. Fake security cameras and other non-working devices are also available as a deterrent to burglary and home invasion. These inexpensive measures might discourage some thieves, but a sensor that has a loud alarm to scare off any potential burglars is more effective. The most effective home security equipment is installed by a professional and employs a monitoring system to alert the police and home security service when there is a problem.
AS FEATURED ON:
AS FEATURED ON:

By: Benicce

Motion detectors can usual sense changes in pressure caused by a swinging door.

By: itsallgood

Home security systems can be costly, but they are usually worth the investment, especially in nicer homes that are prime targets.

By: Kenishirotie

An alarm keypad enables owners to turn the system on and off, monitor sensors, perform maintenance and create customized settings for the alarm system.

By: Brian Jackson

Home security alarm systems vary in quality, from simple alarms to alarms connected to sophisticated motion detectors that can tell if movement is a from a person or pet.