What Are the Different Types of Fair Trade Clothing?
Fair trade clothing comes from companies that use ethical business practices. These companies hire workers at fair wages, do not employ child labor and offer everyone an equal opportunity. There are different types of fair trade clothing for children, men and women, including toddler's rompers, women's dresses, jeans and accessories, to name a few. Designers often use organic cotton, hemp, bamboo or other sustainable materials when creating fair trade clothing.
All types of clothing for babies and small children are sold by fair trade clothing companies. Many designers sell baby onesies and playsuits made from organic cotton. The outfits often have different sayings that support both the fair trade movement and organic clothing. For toddlers, manufacturers offer pullover sundresses, T-shirts, rompers and cotton pants. A few fair trade companies sell cotton play shoes for toddlers, which work well for wearing indoors.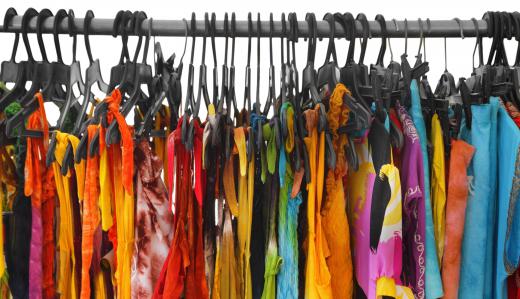 Women's styles make up the largest variety of fair trade clothing. Juniors, petites and women can purchase many types of dresses with different hem lengths, cuts and styles, such as halter cut sundresses, A-line casual dresses and full-length dresses. Many companies offer fair trade jeans for women and other casual wear, such as baby doll-cut T-shirts, fashionable tank tops and long-sleeve blouses. Several designers also offer yoga clothing, including bamboo yoga pants, fitted organic cotton tank tops and tennis skirts.
The fair trade clothing industry also offers an impressive line of styles for men. Men can choose from a wide range of jeans and dress pants made from materials such as bamboo and hemp. There are many types of organic cotton T-shirts available, both in plain colors and printed styles, that have different popular fits such as the V-neck, vintage and casual cuts. A few designers have also created fair trade pajamas for men, and these lines include pajama pants in solids and prints as well as loose-fit T-shirts made for sleeping.
A few designers have created essential lines for men and women. These essential lines include underwear, undershirts, slips and socks. Women can choose from a full line of lingerie, camisoles and hosiery. Men can choose from a full line of undergarments, tank tops and T-shirts. Most of the intimates and essential apparel offered by fair trade clothing designers come from sustainable materials, such as organic cotton or bamboo, or from recycled materials, such as repurposed metal clasps.


By: Monika Wisniewska

Fair trade blankets, couch cushions, and other accessories may also be available in some locations.

By: Ariwasabi

Just because something is labelled "fair trade" does not mean it was actually purchased over channels that ensured high labor costs went into its price.

By: adisa

Women's styles make up the majority of fair-trade apparel.

By: Masson

Many companies offer fair trade jeans for women.

By: Paige Roberts

Onesies are often made from organic cotton by fair trade clothing companies.

By: esebene

Designers often use organic materials like hemp to make fair trade clothing.

By: Deklofenak

Yoga clothes are one type of fair trade clothing that may be more available.

By: ratana_k

Many fair trade companies sell children's clothes.