What Are the Different Types of DIY Fashion Projects?
The most common DIY fashion projects either customize an existing piece or create an item from scratch. Some of the most popular include adding additional details to clothing, shoes, and bags to enhance or change the look of the piece. Repurposing an item to work as a different article of clothing or an accessory can be a fun and exciting way to add a unique item to a wardrobe. Handmade accessories, such as jewelry, scarves, or hair items, are also common DIY fashion projects.
Adding unique detailing to existing articles of clothing or accessories is one of the easiest and most popular DIY fashion projects. Lace can be threaded into nearly any clothing item, or used to tie off a shirt or dress at the waist for a feminine touch. Adding studs to a plain leather belt can provide both men and women with an edgier look, as can using sandpaper to distress a pair of jeans. A plain pair of shoes can be dyed to match an outfit, depending on the material of which it is made, or chains, lace, or beads can be glued or sewn onto footwear to personalize it. When it comes to handbags, straps can be replaced with different material or metal chains, and pins can be added to different areas of the item to customize it.
For those with a decent amount of do-it-yourself expertise, many fashion projects repurpose an existing item. Nearly any article of clothing can be turned into a handbag with a sewing machine, and strips of fabric from a shirt or dress can be turned into a bow or headband for the hair. One of the easiest and most common repurposing DIY fashion projects is turning a pair of jeans or pants into shorts by simply cutting off the legs. The fabric can be allowed to fray for a more casual look, or the ends can be hemmed to make the shorts look very similar to those purchased in stores. Those with a decent amount of experience with a sewing machine can also typically change a dress into a shirt, or add material onto a shirt to make it longer.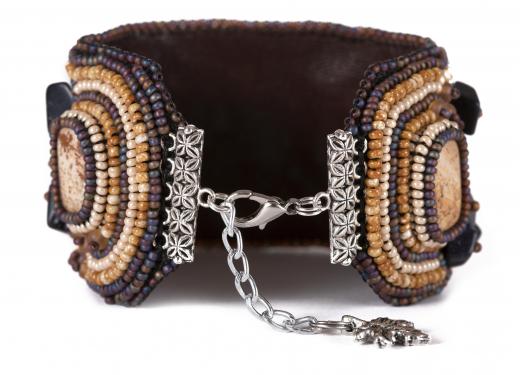 Custom accessories are relatively easy to make, and are a popular DIY fashion project for young children and adults alike. With a little string or cord, some beads, and a clasp, one can make a necklace or a bracelet of nearly any style. It is also relatively simply to knit a scarf with some instruction, or sew a piece of thin fabric into a lightweight neck accessory. For the hair, different accessories can be made with plain barrettes or headbands by gluing beads or painting designs on the pieces as well.


By: Egorius

Fashion clothing may be dyed in many different colors.

By: Natalya Solovyeva-Ko

While shibori uses the same basic techniques as tie dying, the results can often look much more elegant.

By: donyanedomam

Beads often are used for finishing touches in DIY fashion projects.

By: Sergey Goruppa

Artisan jewelry can be a fun DIY fashion accent.