What are the Different Types of DIY Electrical Projects?
Do-it-yourself (DIY) electrical projects are tremendously satisfying. The average householder in the United States has the opportunity for a great many such projects around the home, all the while saving the significant costs of hiring a professional electrician. From such relatively simple jobs as rewiring a lamp and replacing an electric outlet, to more involved projects like installing a ceiling fan or installing a new electric outlet, there are many possibilities for developing one's skills and becoming an accomplished DIY householder. The drawback is that some DIYers try to run before they're good at crawling, and tackle electrical jobs beyond their competence. Electricity can hurt, and moves faster than our ability to get out of its way. Nevertheless, millions of Americans have successfully — and safely — undertaken all sorts of DIY electrical projects.
A useful project that can be tackled as a first DIY electrical project is the rewiring of a simple lamp. It happens from time to time that a lamp simply stops working, or the householder wants to convert it from a simple on-off to a three-way lamp. Although there appear to be many different parts that make up a lamp, in reality there's only one piece that matters — the socket. Lamp sockets are very inexpensive, and shouldn't be repaired, just replaced. All that's really required is the careful removal of the old socket and disconnection of the wires, paying attention to how they're configured, following which the wires are connected to the new socket in the same fashion. It may also become necessary to replace the power cord, a fringe benefit for the beginning DIYer because she'll also learn to install an electrical plug onto a power cord. A competent job of rewiring a lamp can be accomplished with just a screwdriver, although a wire stripper might also be necessary if the power cord has to be replaced.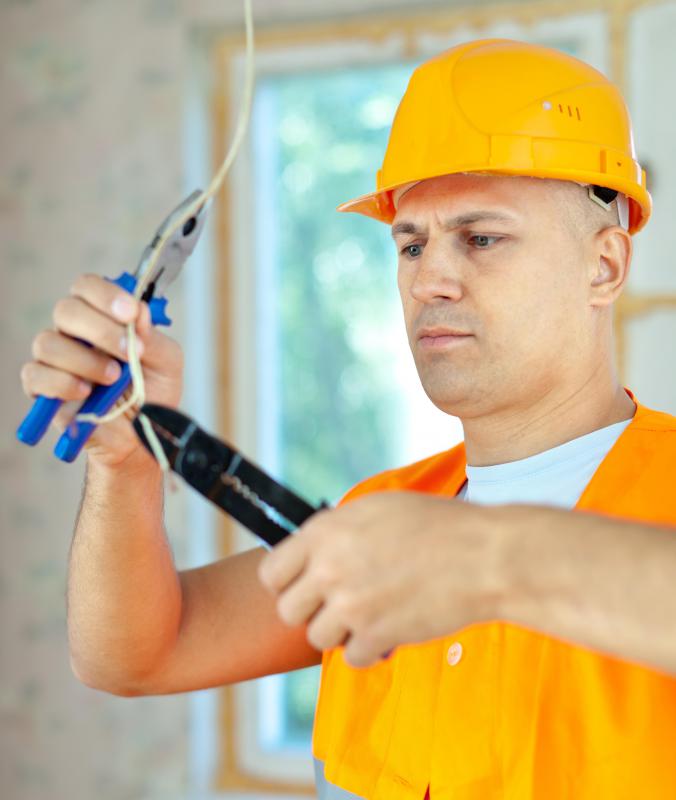 Another relatively easy DIY electrical project is replacing an electrical outlet. For this job, another tool is necessary: a circuit tester. After turning off power to the outlet to be replaced at the circuit breaker box, the circuit tester verifies that there's no power in the outlet. A suitable substitute for a circuit tester is a lamp or radio that is absolutely guaranteed to work because it's been tried in an energized outlet immediately before testing the outlet to be replaced. Other than the circuit tester, the screwdriver is the only tool necessary to do a good job of replacing an outlet.
Installing a ceiling fan challenges the DIYer's skills. Not only must she complete an involved wiring scheme, she must also level and attach the fan to the ceiling joists and repair the ceiling when done, bringing carpentry and finishing skills into play along with electrical expertise.
Many homeowners install low-voltage outdoor lights to illuminate their walkways and highlight decorative shrubbery after dark. This is a relatively easy job requiring few tools, and can be done in a single afternoon. More complex DIY electrical projects include jobs like installing a new outlet or installing a washer, dryer or range. These jobs are more involved, and may involve running cable behind walls. They generally shouldn't be attempted by someone who hasn't had a good amount of experience with household electrical work.
There are many guides and instructional books available for DIY electrical projects, in addition to which the associates at hardware centers are usually very knowledgeable and are happy to consult with customers on their projects. DIYers, especially those just starting up, should exploit the opportunity to review their projects with them. Another area where their expertise can be valuable is making certain that the equipment and supplies being purchased are correct and appropriate for the job. This is especially important when selecting electrical cable to run behind walls.
A word of caution: DIYers shouldn't undertake an electrical project they're uncomfortable with, or one they don't thoroughly understand. Electricians may be costly, but they've completed a great deal of training, especially if licensed, and also are very experienced in all sorts of household electrical jobs. It should also be kept in mind that most homeowner's insurance policies won't cover damage resulting from electrical work performed by non-professionals.
By: chrisdorney

Replacing an electrical outlet is a relatively easy DIY electrical project.

By: auremar

Changing fuses or labeling the circuits in a breaker box can both be DIY projects.

By: JackF

When troubleshooting for electrical problems, first read the home's schematic drawings to see how it's wired.