What Are the Different Types of Baby Food Containers?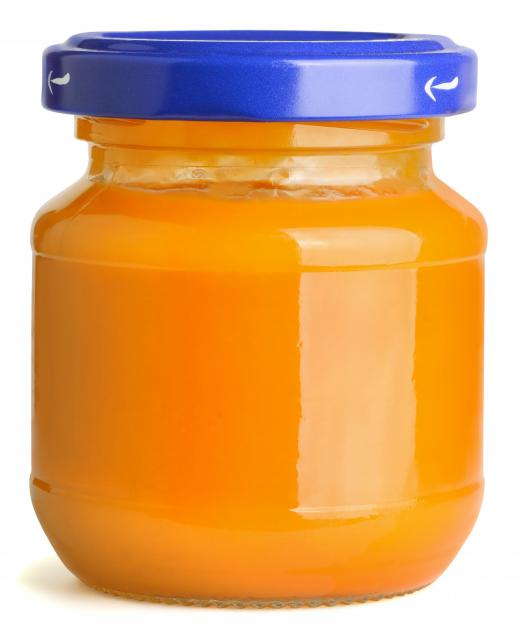 Small glass jars are one of the most common types of baby food containers, and these can usually be found in convenient single serving sizes. Sealed plastic baby food tubs and trays are also becoming more popular, since they do not break and are more lightweight than the glass jars. These containers may be made out of plastics that contain dangerous chemicals, however, and there is a small possibility that these chemicals can leech into the baby food. Special containers are also available for storing baby food, but mothers can also choose to freeze homemade food in ice cube trays or resealable plastic bags.
Glass baby food jars are commonly used as baby food containers, and usually hold just a single serving of pureed baby food, which is usually very convenient for most mothers. Smaller servings can be found for younger babies just starting to eat solid foods, and slightly larger servings can be found for older, larger babies. Jars, while convenient, are not without their disadvantages, however. Since they are made of glass, they can shatter if dropped or struck. A diaper bag or overnight bag containing several of these baby food containers can also be somewhat heavy.
Plastic baby food containers, on the other hand, are generally shatter proof and much lighter. Like glass baby food jars, small plastic baby food tubs can hold single servings of pureed baby food. Plastic trays with separate compartments for different foods can also be used to store meals for older babies. These containers are usually sealed with a plastic or foil film to prevent them from going bad or becoming contaminated.
Some plastics, however, contain chemicals like bisphenol A (BPA) that can be toxic in large quantities. If these baby food containers are made from certain types of plastic, there is a small possibility that these chemicals can leech into the baby food. Although these chances are low, parents are usually advised to avoid baby food containers made from potentially dangerous or unknown plastics. Specifically, plastics with a number "7" or "PC" on them are not recommended.
Special homemade baby food containers are also available. Although these may be nice to have, they are not always necessary; many parents choose to scoop homemade baby food into ice cube trays and freeze it. Once frozen, the cubes can be emptied from the ice cube tray into large resealable plastic bags. One or two frozen cubes can then be thawed at mealtime.


By: Coprid

Baby food.

By: krasyuk

Plastic containers are a shatter-proof option for storing baby food.