Tango shoes are specially designed dance shoes for men and women to wear when doing the tango, a form of ballroom dancing originating from Argentina. The shoes are light and soft. They are designed to fit a person's feet comfortably while looking elegant and stylish during the dance.
Women's tango shoes are high-heeled, open-toe shoes with a strap around the ankle. The heels are placed in just the right position to provide stability when walking backward. Tango shoes are flexible enough to allow for maximum foot articulation but still are supportive. The tango often requires the woman to dance on her toes, and tango shoes are built perfectly for those types of dance moves.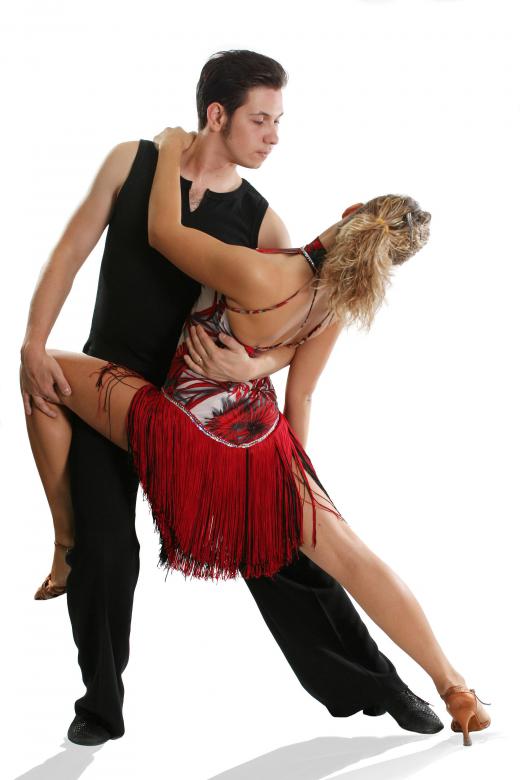 There are variations to the basic style, such as heel cages, peep toes, exposed arches, and T-straps going up the middle of the front of the foot. The soles usually are made out of leather or suede. Tango dancing shoes come in many colors and patterns to match a woman's tango dress or costume. Women's tango shoes typically boast a stiletto high heel, but there are other options available. A woman just beginning to learn to tango might wish to start with a shoe with a smaller heel, and an expert dancer might choose to wear a very high-heeled shoe for a more dramatic effect.
Men's tango shoes are made to flex with the foot while still providing foot support. The shoes also prevent slipping as the man graciously guides the woman across the dance floor. Men's dance footwear often gives the appearance of a classic dress shoe. Men's tango shoes completely enclose the foot and lace up the front. They are made out of leather or suede and are available in many colors and styles, from a basic brown to a black wingtip.
Tango dance shoe sizes run the same as street shoes, but half sizes might not be available. Shoe stretchers can be purchased to stretch the material of the shoe, allowing it to fit better. Shoes made out of suede and soft leather will stretch more than shoes made out of patent leather.
Tango shoes can be purchased at specialty dance shops or at online stores and boutiques. Many of these dance shoes are made in Argentina, which is considered the birthplace of the tango style of dance. Most online dance shoe retailers accept currency from many countries and will ship to locations around the world.
AS FEATURED ON:
AS FEATURED ON:

By: Dancer01

Tango is a form of ballroom dance from Argentina.

By: winston

Men's tango shoes have the appearance of classic dress shoes.

By: Ekler

The tango started in Buenos Aries, the capital of Argentina.