What are Some Good Scrapbooking Gifts?
Scrapbooking has become a popular hobby in the United States as well as other countries and as a result there are many possible scrapbooking gifts. Supplies and media make thoughtful and useful scrapbooking gifts for scrapbookers of all levels of expertise and interest. Scrapbook and craft stores commonly sell supplies specific to scrapbooking that are coordinated or made to be used as sets. Albums, embellishments, photo corner mounts and mounting tape, background papers, stencils, rubber stamps and ink pads, eyelets, archival pens and paper trimmers are basic materials that all scrapbookers can use. Scrapbooking supplies should all be of archival quality and acid free to avoid decomposition and damage that can come with time.
Scrapbooking is a way of preserving and presenting photographs and other important personal memorabilia in an album decorated with mixed media. Scrapbooks typically are organized around a theme like a school year, vacation, wedding, college, new baby or other milestone.
Each page of a scrapbook becomes a collage of photographs and small mementos affixed to colorful backgrounds with embellishments such as stickers, letters and postcards, lace, beads, ribbon, sequins, wire, embossing and die cut letters and shapes. Digital scrapbooking allows for the creation of complex scrapbook pages in digital form that may be kept exclusively in digital form or printed and displayed in albums or bound in a hardcover volume.
Advanced scrapbookers may appreciate receiving specialized tools used to create more complex and elaborate layouts. Manual and computerized die cut machines can be used to create a wide variety of complex fonts, shapes, phrases and designs from different materials such as paper or foam. Craft punches make confetti in many shapes such as hearts or stars while lightweight heat embossing tools can melt embossing powder and puff up liquid applique among other uses. Gift cards or gift certificates to a craft supply store are possible scrapbooking gifts, especially if the giver is unfamiliar with the needs and tastes of the recipient.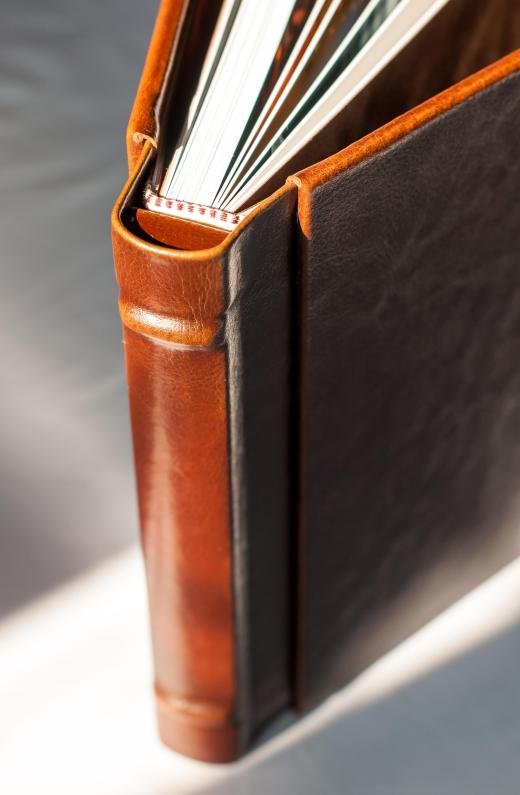 Storage systems and organizers for supplies, tools and photos can be practical scrapbooking gifts. Some organizers are similar to wheeled carry on suitcases that allow scrapbookers to transport supplies to meetings or classes. Other storage systems include cabinets with drawers sized for scrapbooking paper and embellishments, roller carts with baskets or trays, large wallets or folders, folding tables with built in storage and plastic carrying cases of little drawers.
A scrapbooker interested in digital scrapbooking may prefer to receive supplies, software and hardware specific to this version of the hobby. Page layout programs, scanners and printers, digital scrapbook page templates and online storage are all useful scrapbooking gifts for digital scrapbookers. Enrollment in a short instructional seminar about digital scrapbook techniques and software can help the gift recipient master their new tools.
AS FEATURED ON:
AS FEATURED ON:

By: terex

Scissors for scrapbooking.

By: Sergey Mostovoy

Scrapbooking supplies can be nice gifts for those just starting out.

By: SilviuFlorin

Basic materials like albums are good gifts for scrapbookers.

By: Neiromobile

Glue is a useful scrapbooking supply.

By: Monkey Business

Scrapbooks are typically organized around a theme, such as a vacation or wedding.

By: nito

Fabric can be used to add decorative touches to scrapbooking projects.

By: Sergey Mostovoy

Twine, clothes pins, and card paper are examples of items that can be found around the house and repurposed for scapbooking.

By: MaryPerry

An embosser can make a great scrapbooking tool.