What are Some Examples of Italian Cuisine?
Italian food is loved throughout the world for its hearty flavors and filling combinations. Italy, situated in the verdant climate of the Mediterranean, has long been home to a variety of food and flavors, with an ancient emphasis on eating fresh and seasonal foods. Thanks to its rich historical tradition, many of the dishes beloved in Italian cuisine today have their roots in farming and cooking practices dating back more than a thousand years.
The first known Italian food writer was a Archestratus, a Greek Sicilian who lived in the 4th century BCE. Archestratus' writings insist on the freshness and seasonality of food, noting that spices should not be used to mask a flavor but rather to enhance its natural properties. Although the popularity of this concept waxed and waned with the centuries, the idea of highlighting fresh flavors eventually became a cornerstone of Italian cuisine.
Many people instantly conjure up an image of a hearty pasta dish when thinking of Italian cooking. Some experts believe that pasta came to Italy during the 9th century, adapted from an Arabic recipe that combined flour and water to make long strings of a pasta-like substance. Today, Italy has perfected pasta in a variety of forms. In addition to stringy spaghetti, filled pastas like ravioli, and other noodles of various forms, Italian cuisine also includes gnocchi, dumpling-like pasta made from potatoes.
Gnocchi and other pastas are most often served in a sauce. One of the most common forms of pasta sauce, marinara, is made from a tomato base and often includes herbs such as basil and oregano as well as garlic and onions. Many classic Italian dishes simply add vegetables sautéed in olive oil or various meats and cheese to a basic pasta and sauce dish.
Italian cuisine is also noted for its use of seafood in many dishes. Calamari, from the Italian word calamaro is a famous squid preparation, deep-fried and garnished with parmesan cheese. This dish is a popular appetizer and has gained global fame. Fish dishes in Italian cuisine are often simple and reflect the seasonality of Italian food. Fish cooked with parsley, lemon juice and olive oil is a simple dish that offers a world of variations while keeping the integrity of the original flavors.
Italian desserts are a marvel in delicate pastry work. One of the most popular is tiramisu, a near-mythic concoction of espresso and marsala-wine flavored sponge cake layered with heavy custard and coated in cocoa powder. Italian cuisine also blesses the world with gelato, a dense frozen dessert similar to ice-cream but usually more rich and creamy.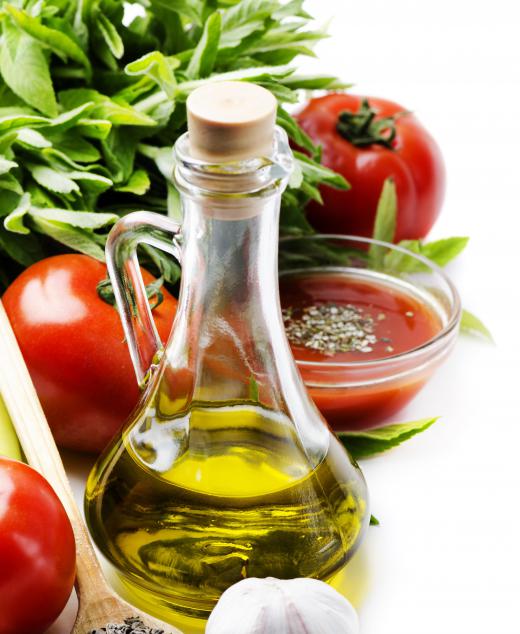 Italian cuisine offers something for everyone, whatever your taste in food. While seafood lovers can find a host of choices among classic dishes, vegetarians are treated to a near endless combination of pastas, sauce and vegetable preparations. Added to traditional Italian cheeses such as pecorino or mozzarella, flavorful combinations of classic espresso, and enough desserts to inspire drooling, Italian cuisine surely ranks as one of the most popular and crowd-pleasing genres of food world-wide.
AS FEATURED ON:
AS FEATURED ON:

Fried calamari.

By: Taiga

Oregano is often used in Italian cooking.

By: dreambigphotos

A frittata is an Italian egg-based baked dish.

By: MSPhotographic

Pasta shells stuffed with cheese, sausage meat or vegetables is a popular Italian entree.

By: hitdelight

Insalata caprese features basil, juicy tomatoes, and fresh mozzarella carefully arranged in layers.

By: Giuseppe Porzani

Tomatoes are used in a variety of Italian dishes.

By: Joe Gough

Chicken cacciatore is a well-known Italian stew often served over pasta.

By: margo555

Garlicky pesto is made with liberal amounts of extra virgin olive oil.

By: annie1961

Chicken Marsala simmered with wine and mushrooms.

By: Viktor

Tiramisu made with mascarpone cheese is a classic Italian dessert.

By: Marzia Giacobbe

Classic Italian dishes include pizza, pasta, and salads.

By: hiphoto39

Calamoro is made from squid.

Ciabatta rolls.

By: MarcoBagnoli Elflaco

Tiramisu is one of the most popular desserts in Italian cuisine.

By: Marco Mayer

Gnocchi is served in a manner similar to pasta.

By: isrgil

Today, Italian cuisine offers many types of pasta.

By: Schlierner

Garlic is popular in Italian cuisine.

By: HLPhoto

Chicken piccata is a popular Italian dish.

By: Francesco83

Pasta with pesto sauce, topped with pine nuts.

By: Natika

Fresh basil leaves are often used in Italian cuisine.

By: Viktor

A bowl of bocconcini, small balls of fresh mozzarella.

By: Bert Folsom

Grated Parmesan cheese is often used in Italian cuisine.

Pasta with sausage and mushrooms.

By: goodluz

Chefs who specialize in Italian cuisine often use fresh, locally sourced ingredients in their dishes.