What are Motorcycle Boots?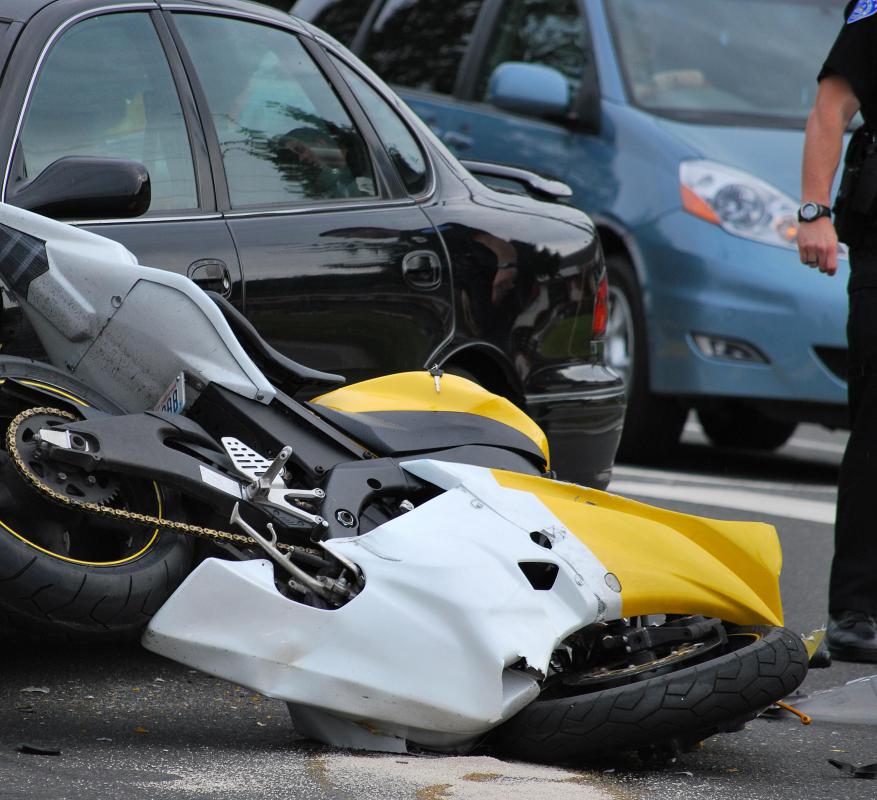 Motorcycle boots are designed to be worn while operating a motorcycle. They typically range in height from just above the ankle to just below the knee. Colors vary widely, but black may be the most popular shade. Unlike regular boots, motorcycle boots have certain built-in features to better protect the feet while riding. The quality of the safety and comfort features typically vary depending on manufacturer and price.
Many types of motorcycle boots have soles that are both sewn and bonded on. This helps prevent the sole being ripped off and better protects the foot in the event the driver's foot drags on the ground. Lower quality boots may have soles that are attached only with glue and would likely come off easily in a crash. The soles of most motorcycle boots are generally very thick and contoured for traction. Thick soles also serve the purpose of minimizing the vibrations felt in the foot from the motorcycle.
Most boots made for motorcycle riding can be either slipped on or fastened on. Many people believe boots that must be fastened on are safer because they are less likely to slip off the foot in a crash. Boots that fasten may be secured with laces, zippers, or loop-and-hook systems. Slip on boots are probably less of a hassle to put on and take off, but may not be the ideal choice for someone who spends a lot of time on a motorcycle due to the safety issues.
Waterproofing is another common feature of most motorcycle boots. In addition to the built-in waterproofing, many people also apply saddle soap to act as a water repellent for further protection. Higher quality boots are occasionally made of waterproofing material that is also breathable, which prevents wetness inside the boot from perspiring feet.
Regardless of price, one of the most important aspects of picking out a pair of motorcycle boots is comfort. Safety and comfort tend to go hand in hand because a pair of motorcycle boots that are too tight or too loose could directly impact the operation of the bike. When searching for a pair of comfortable, functional boots, a person should seek out good quality leather that is neither too soft nor too thin. Thinner leather would likely seem to be the most comfortable when compared to thicker leather, but it wouldn't properly protect the feet and shins in a crash. Ideal motorcycle boots are made of thick, bendable leather that provides both comfort and protection.
By: oscar williams

Low quality motorcycle boots have soles that will easily come off in a crash.

By: Rawpixel

Motorcycle boots can protect the feet from getting cut or scraped.