What are Lymphedema Compression Garments?
Lymphedema compression garments are specially made garments intended to reduce an unhealthy accumulation of lymph fluids in various parts of the body due to disorders of the lymphatic system. There are many causes of lymphedema, including head, neck, and breast cancer as well as cancer of the lymph system itself. Lymphedema causes several unpleasant and sometimes dangerous symptoms such as inflammation of the affected areas, pain, and a lessened range of motion. The use of lymphedema compression garments encourages the lymph fluid to flow freely through the body as opposed to pooling in the arms, legs, or feet. These garments are designed to fit the body parts most commonly affected by lymphedema.
There are several types of lymphedema compression garments made to ensure any affected areas can be successfully treated. Lymphedema sleeves are designed to fit the arms and legs, with some models offering additional hand or foot support when needed. Some compression sleeves are intended for the lower sections of extremities such as the forearm and calf regions, while others are made for the entire limb. When the lymphedema is located in awkward places, for instance the hip, lymphedema bandages can be employed as well. These bandages are simple for the patient to use and can be modified for just about any area, including around the wrists and ankles.
It is crucially important for a lymphedema patient and his or her doctor to ensure the compression garments are in good condition. Every type of lymphedema compression garment is made with a highly elastic material. This material keeps the patient's swollen limbs well supported and compressed, aiding in the flow and healthy movement of the lymphatic fluid. Those elastic fibers wear out due to the constant strain placed on them, and the garments will need to be replaced every four to six months. Medical experts believe keeping this replacement schedule and paying attention to the quality of the lymphedema compression garments is a crucial part of treatment.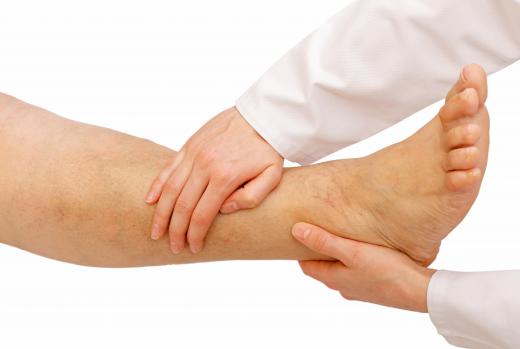 The job of the lymphedema compression garments is to help promote a healthier lymphatic system and reduce some of the symptoms associated with this disorder. When left untreated, lymphedema can cause fibrosis and impaired function of the affected muscle areas. Along with chronic inflammation and reduced mobility, this disorder is also characterized by pain and altered physical appearance. The body parts affected often take on a lumpy and misshapen appearance due to the collection of fluid. Early diagnosis and treatment, in addition to the use of lymphedema compression garments, typically yields good results for the patient.
AS FEATURED ON:
AS FEATURED ON:

By: nito

Compression stockings help reduce swelling.

By: Ocskay Bence

The knees and ankles are common locations of swelling.

By: blueringmedia

Lymphedema compression garments can help promote a healthier lymphatic system.

By: Iaroslava Zubenko

Lymphedema can cause symptoms such as breast inflammation and pain.

By: Dusan Kostic

Problems with the lymph vessels may cause the ankles to swell.

By: maska82

A lymphedema compression garment may help relieve wrist swelling and pain.

By: hriana

Leg injuries may cause lymph node swelling.