What Are Low-Carb Protein Shakes?
Low-carb protein shakes are nutritional beverages that contain high levels of protein while also being low in carbohydrates. The shakes are typically available in both powder and ready-to-drink forms and in many different flavors. The exact ingredients in low-carb protein shakes vary by manufacturer. The protein source for these shakes varies between products and may consist of whey, soy, or even egg protein. People who are on diets that restrict carbohydrate intake usually drink these shakes both as snacks and meal replacements, although they are also consumed as a protein supplement by anyone who wants to avoid extra sugars or carbohydrates.
Nutritional shakes are a common way for people to conveniently supplement their diet with extra nutrients or to control calorie intake. For very busy people, these drinks can also provide a way of getting needed calories and nutrition while not having to prepare and eat a meal. Some people choose to make their own low-carb protein shakes using protein powders and other high-protein liquids, such as dairy and nut milks, while others purchase prepared shakes from manufacturers of diet products or nutritional supplements. Unlike other meal-replacement or nutritional shakes, a low-carbohydrate shake is not made with high-carbohydrate fruits or starches and is sweetened with natural or artificial sweeteners that are low in carbohydrate.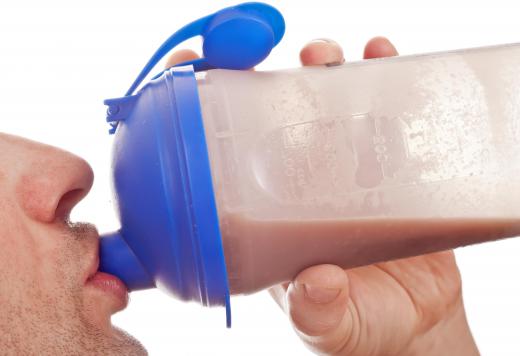 For convenience, many people choose ready-to-drink low-carb protein shakes that are already premixed and sold either in cans or in drink boxes. This type of shake is typically significantly more expensive than a powdered shake mix. Despite the expense, many people prefer to drink premixed shakes because they do not have to bother with blending the shake themselves. Powdered mixes must be prepared using some type of liquid, usually milk, cream, or water, and a blender or a specially designed shaker to ensure a smooth consistency. The advantages of using powdered low-carb protein shakes over premixed shakes include cost savings as well as the ability to customize a shake's flavor and consistency by using different liquids, adding more or less shake powder, or even using additional flavorings or ingredients.
As low-carb protein shakes usually rely on sugar substitutes for sweetness, some users may find that their shakes have a strange flavor or aftertaste. Many people who consume the shakes find that chilling them to a very cold temperature helps to mute these odd flavors. Another option is to blend a powdered shake with equal amounts of ice and liquid, which not only provides a colder shake, but can thicken the drink so that it tastes more like a conventional milkshake.
AS FEATURED ON:
AS FEATURED ON:

By: Deymos

Milk or water are often mixed with powder to make a low-carb protein shake.

By: anyaivanova

Low-carb protein powder is often mixed with water to make a shake.

By: Orlando Bellini

Powdered drink mixes can be used to make low-carb protein shakes.