What are the Different Types of Egg Protein Shake?
An egg protein shake is used by body builders and dieters as a nutritional supplement or meal replacement to aid in losing weight and building muscle. There are three different types of egg protein shakes that can be consumed for these purposes: egg protein powder shakes, egg white shakes, and whole egg shakes. These protein sources can be mixed with any number of ingredients to create a healthy and tasty snack or meal.
Egg protein powder is sold in health food stores, online, and by many major grocery chains. This type of egg protein shake comes in different flavors such as chocolate, vanilla, and strawberry and is typically mixed with water or milk to create a drink. Using this type of powder is convenient for many and eliminates the concern of eating raw eggs while still providing many of the health benefits. Fruits and vegetables can also be added to the mixture to create a meal replacement shake. This protein powder is popular among body builders and others looking to increase their muscle mass and can be a good way to replenish nutrients after a hard workout.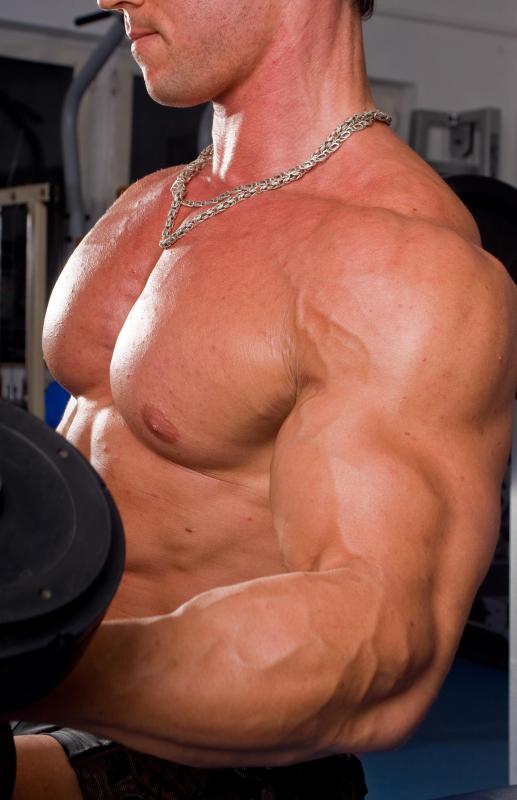 For those looking for an all natural egg protein shake, raw egg whites are a good choice. They can be mixed with skim milk, fruit, ice, flax seed and honey to create a healthy smoothie. As long as very fresh eggs are used from healthy chickens, the risk of salmonella or other type of food poisoning is relatively slim.
The possibility of food poisoning is still a concern, however, which is why many doctors suggest using a pasteurized egg white replacement product in lieu of raw. Egg white shakes can be appropriate for those looking to lose weight due to the lack of fat and low calorie count — about 17 calories per large egg. Egg whites also have approximately four grams of protein per large egg, making them a good way to feel full for a longer period of time.
A whole egg protein shake, another variant, is made with both the yolk and egg white. While this version has more calories and fat than an egg white shake, about 74 calories and five grams of fat per large egg, it also contains more protein — a little over six grams versus an egg white's four grams. Whole egg protein shakes are popular with body builders, as the nutrients found in the yolk help to not only build muscle faster, but repair muscle easier after a strenuous workout.
This type of raw egg protein shake is also considered a little bit safer than the egg white-only version, as the yolk helps the body to process any bacteria present without many of the common side effects. For those concerned about eating raw, unpasteurized eggs, there are whole egg replacement products on the market. These often have the added benefit of less fat than a natural egg, making them a good choice for those looking to lose weight and build muscle.
An egg protein shake can be a good addition to many workout regimes and healthy diets. Whether using raw eggs, egg products, or egg protein powder, it is important to discuss these choices with a doctor. These shakes, coupled with a healthy consumption of other foods and regular exercise, can help many people reach their health goals safely and effectively.
By: lculig

Egg protein powder.

By: CrackerClips

A carton of a dozen eggs. Some protein shakes include egg whites or whole eggs.

By: Csák István

Egg protein shakes are good to eat when trying to build muscle.

By: spline_x

Flax seed oil is sometimes added to smoothies.

By: ginauf

The nutrients in an egg yolk can help to build muscle faster and repair muscle.