What are Exercise Gloves?
Exercise gloves are any gloves worn during a workout, often for a specific purpose. There are different types of exercise gloves, such as for weight lifting, boxing, or jogging. It is generally a good idea to wear designated gloves for exercising in order to protect the hands when necessary.
Exercise gloves used for weightlifting are some of the most common. These are generally fingerless gloves that fit securely over the hands, and feature a non-slip pad as well as extra padding on the front of the hands. The non-slip pad helps to prevent a weight lifter from potentially dropping a heavy weight once hands become slippery with sweat, and the extra padding around the hands and the fingers prevents scratches and injury.
It is important for everyone to wear these gloves while weightlifting to prevent injury. Dropping a heavy weight onto one's foot could easily cause a fracture. It is also generally a good idea to lift weights with a partner who will be able to help if the weights become too heavy.
Another type of exercise gloves are worn for boxing. These are fairly well known, and fit over the hands like standard gloves with a great deal of extra padding at the front. This padding protects the fingers and knuckles when throwing punches, and also protects the person being hit.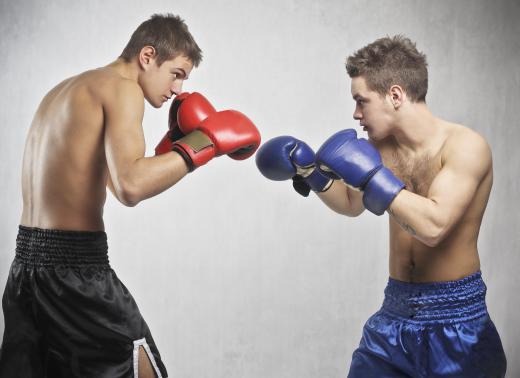 The final type of exercise gloves are those worn in the winter while working out in the outdoors. Joggers, runners, and cyclists often wear gloves during the winter to protect the hands from the elements. When exercising for any amount of time in very cold weather, frostbite is possible, and it is simply not advisable or safe to keep the hands in the pockets.
Exercise gloves designed for outside use tend to be thin and light, made of insulating material that is still breathable to prevent making the hands sweat even more. Though some exercise gloves may come with hand weights attached, to be worn while walking, some experts state that hand weights as a general rule should be avoided because they can stretch the tendons in the arms and raise blood pressure without providing any real fitness benefits.
Exercise gloves for various purposes may be purchased in fitness stores or online. An employee at a fitness store is generally able to assist customers in making the best choice for their needs. Purchasing gloves online, however, can allow the consumer to read reviews regarding the quality of the gloves and how they perform over time.
AS FEATURED ON:
AS FEATURED ON:

By: kitzcorner

Those who exercise outside in the winter require winter gloves to wear when they go jogging or cycling.

By: olly

Boxing gloves protect fighters' hands as they throw punches.

By: Monkey Business

Sparring gloves -- a type of training glove -- provide more padding than those used for competitive bouts.

By: RTimages

Thin liners can be worn under thick wool gloves for added protection during winter sports and exercise.

By: pio3

Exercise gloves may be worn while lifting weights.