What are Common Christmas Main Courses?
Christmas is known throughout the world as an occasion for gathering, celebration, and feasting. For centuries, the variety and effort put into fantastic Christmas meals have been a reason to polish the silver, smooth the tablecloth, and break out the good china. Popular Christmas main courses vary throughout history and by region, but each may have significant association with either the season or the individuals enjoying the meal.
In Italy, Christmas main courses often consist of seafood dishes like squid or fish. Typically served with pasta or risotto, hearty dishes of food from the sea can make for delicious sit-down or buffet-style meals. Some Italians also prefer to celebrate a holiday meal centered on fish on Christmas Eve, where seven different types of seafood are consumed to represent the seven sacraments of the Catholic Church.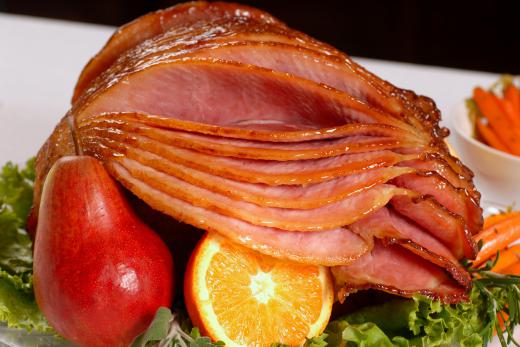 Christmas main courses also feature fish and shellfish in Spain, where a delicious stew called paella can feed a large crowd while making use of local sea delicacies. Served with hot bread, paella may be served as a first course, with more traditional roasted meats making up a second course of heavier food. A popular Christmas second main course in Spain is roasted turkey stuffed with truffles. Spanish Christmas dinners are unique in that they are often held just after midnight on December 25th, to celebrate the coming of the holiday in style.
Roasted meat makes up the bulk of Christmas main courses throughout Europe, though the preferred animal may vary. Goose is traditional in England, its popularity possibly due to the loving description of roast goose in Charles Dickens' A Christmas Carol. When goose is not available or preferred, roast turkey, duck, lamb, or even chicken may be substituted.
In Japan, where Christmas is often a less important holiday than New Year's, some families use the holiday as an excuse for takeout. Pizza and fried chicken are extremely popular Christmas main courses in some parts of the country, while roast chicken is also sometimes enjoyed. More popular in Japan is the traditional Christmas cake, a highly decorated store-bought cake that may be the center of any Yuletide celebration.
Christmas main courses in America have influences from around the globe, depending on region, ancestry, and family traditions. Many families with a Mexican or Latin American background enjoy spicy, flavorful meat stews for dinner, while people on the East Coast recall colonial roots while feasting on turkey stuffed with oysters. Ham is popular in the South, while the large vegetarian population throughout the United States often enjoys meat-alternative roasts or large pasta dishes.


Fried calamari is often served at Christmas.

By: Václav Hroch

A Christmas tree with presents.

By: David Smith

Ham is a popular Christmas meal in the southern United States.

By: msheldrake

Many families enjoy roasted chicken at christmas time.

By: .shock

Buffet-style dining is popular for large gatherings on Christmas.

By: Fanfo

Roasted duck or goose are traditional Christmas favorites in England.

By: Andrey Starostin

A Christmas chicken stuffed with chesnuts, ready to be roasted.

By: MSPhotographic

Stuffed pasta shells is a popular vegetarian entree and may be served as an alternate option for vegetarians during Christmas dinner.