What Are the Best Tips for Making a Christmas Goose?
Christmas goose may be served for Christmas dinner instead of or along with other traditional meats, such as ham or turkey. Goose is traditionally eaten on Christmas Day or Christmas Eve in many parts of the world and is often easy to find in countries, such as the United States, where it is not commonly eaten other circumstances. In order to make Christmas goose, the goose needs to be cooked properly at a low temperature. It is important to start out with a relatively small, healthy-looking goose so that the dish will turn out well.
One of the most important things to keep in mind when preparing a Christmas goose is that goose is much higher in fat than many other types of poultry. The meat of a goose is not particularly fatty itself, but the high amount of fat around the meat and under the skin makes it necessary to plan on purchasing a larger amount of goose per person than would be necessary with other meats. In general, each person will need from 1 to 1.5 pounds (0.45 to 0.7 kilograms) of goose if that is the only meat being served.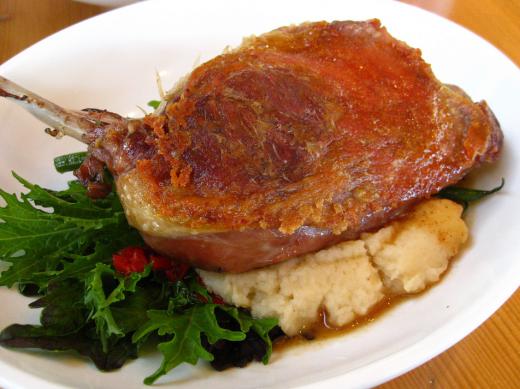 It is also important to choose high quality goose meat for a Christmas goose. Younger geese have more delicate flesh and a better flavor than older, larger geese. In most cases, a 10 pound (4.5 kilogram) bird will taste much better than a 20 pound (9 kilogram) bird. If there will be many people eating the Christmas goose, it is a good idea to choose two smaller birds.
When cooking a Christmas goose, the goose should be thoroughly cleaned, the excess fat removed, and the skin pricked all over the bird so that fat trapped under the skin can boil out. The bird can be stuffed with herbs and spices, breading, vegetables, or fruits, or it can be left unstuffed and then placed on a baking pan in a hot oven. A Christmas goose will need to cook at about 350 degrees Fahrenheit (177 degrees Celsius) for about 20 minutes per pound.
When serving Christmas goose, it is a good idea to serve it alongside another type of meat, such as turkey or ham. Goose has a strong flavor and almost all of the meat is dark meat, and people who prefer the flavor of chicken breast meat may not enjoy goose. Offering a couple of meat options and a lot of sides that go well with goose will help to ensure all the guests are well fed.
AS FEATURED ON:
AS FEATURED ON:

By: Glen MacLarty

Roasted goose legs.

By: yong hong

Houses at Christmas.