How Do I Use Castor Oil for Acne?
Castor oil can be used as a home remedy for the treatment of acne. It is said to help moisturize the skin, slow bacterial growth, control the production of oil, and reduce inflammation that contributes to the development of pimples. To try castor oil for acne to see whether or not it works for your skin, you can start with steps that open your pores to prepare the skin and then apply castor oil to the affected area. Then, you can either rinse the skin or allow the castor oil to remain on your skin overnight.
One way to use castor oil for acne involves starting with a pot of steaming water and a towel. You can place the towel over your head as you hold your face over the steam from the pot. This creates a makeshift tent that concentrates the steam on your skin. The idea with this method is to open your pores, after which you can rub a small amount of castor oil onto your skin, paying careful attention to the areas that are especially affected by acne.
Next, you can wet another cloth with warm water and use it to wipe away the oil that hasn't been absorbed by your skin. Then, you may do well to rinse off your skin with cool water to return your pores to their former state. The last steps in this treatment usually include patting your skin dry and massaging a small amount of the oil into your skin, allowing it to remain there until you cleanse your skin in the morning.
Another method of using castor oil for treating acne skips the step of using steamy water to open the pores and starts with gently cleansed skin in the evening. With this method, you simply massage the oil into the skin with a clean cloth you've dampened with warm water. You then allow the castor oil to remain in place until the morning, when you can use a mild cleaning agent to wash your face.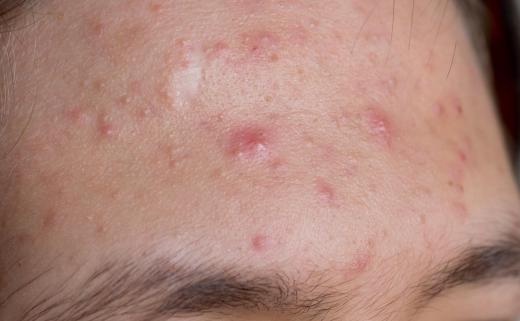 When people recommend using castor oil for acne, they often state that the oil helps to moisturize the skin, which some believe stops the body from producing too much of its own oil and causing clogged pores and resulting pimples. Many also state that this treatment helps to reduce inflammation of the skin that contributes to problems such as acne. It is important to note, however, that this treatment may not prove effective for everyone.
AS FEATURED ON:
AS FEATURED ON:

By: kei u

Breathing over a pot of steaming water and a towel may help open pores when using castor oil for acne.

By: Jörg Hackemann

A boy with acne.

By: olavs

A close up of acne.

By: ipag

Castor oil can be used at night and washed off the next morning.

By: Budimir Jevtic

Prescription topical ointments are more effective at treating acne than castor oil or other homeopathic treatments.