What Are the Benefits of Castor Oil for the Face?
Castor oil has a number of benefits for the face, particularly where moisturizing and healing are concerned. People for centuries have been rubbing small drops of the oil onto the sensitive skin around the eyes to reduce puffiness and wrinkles, and it works as an all-over moisturizer, too, often leaving the face looking supple and refreshed. Acne sufferers often report that it reduces breakouts, and dermatologists sometimes recommend it as a natural way to reduce the appearance of scars and other facial blemishes. Some people also use it to thicken eyebrows, eyelashes, and facial hair.
As a Moisturizer
One of the things that sets castor oil apart from other vegetable-based oils is its very high concentration of fatty acids. This characteristic makes it useful for a number of different things in a range of different industries, but it is prized in skin care for its ability to quickly moisturize. The fatty acids penetrate the skin relatively quickly, lubricating dry patches and helping cells stay hydrated by surrounding them with a protective oily coating. These benefits are often very transparent on the face, where the skin tends to be more sensitive and more exposed to environmental elements like sun and wind.
People often choose to use castor oil over regular lotion because of how effective the oil is, and also how little is required to get results. Just a dab of oil can cover the entire face, and the benefits are typically long lasting: applying a few drops at night, for instance, can lead to supple skin in the morning that looks refreshed and revitalized. Likewise, someone who applies it in the morning will probably still have silky-smooth skin by nightfall. Most lotions, on the other hand, must be reapplied somewhat regularly. This is usually because lotions are topical, which means that they treat only the outer layer of the skin, whereas castor oil is usually able to penetrate down beneath the surface.
Cure for Acne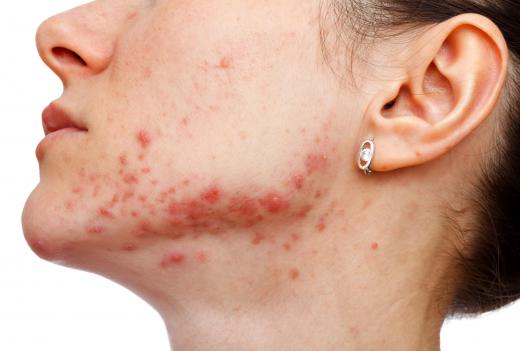 The same deep-penetrating properties that make castor oil effective as a moisturizer can also be beneficial as a treatment or prevention for acne. Acne happens when sweat, skin oils, and bacteria clog pores and cause irritation. Rubbing a bit of castor oil on breakouts can sometimes minimize redness and swelling, though it usually takes a few weeks to start seeing results.
The oil is also widely believed to be helpful as a preventative measure. A number of experts teach that applying a bit of oil to clean skin can ward off breakouts by discouraging build-up. People who are prone to acne often say that one of the biggest benefits of castor oil for the face is how it minimizes the severity and duration of their blemishes.
Fading Scars
Castor oil is sometimes recommended as a way to reduce the appearance of scars. Scar tissue is usually made up of dense, tough cells that are designed to protect the injured skin from exposure, but it also tends to be somewhat unsightly, particularly when it's on the face. Castor oil tends to yield very slow results, but in most cases they are long lasting. With continued use over time, the oil's own fatty acids can seep into the scar tissue, plumping it, revitalizing it, and promoting the growth of healthy tissues around it. This usually has the effect of diminishing the look of the scar.
Anti-Aging Benefits
Castor oil can also reduce the appearance of fine lines and wrinkles, particularly around the eye area. As people age they often begin to see more pronounced wrinkles in places where their face creases, whether for smiling, talking, or making general expressions. The same benefits of castor oil for the face that relate to moisturizing and scar removal can also apply to wrinkle reduction. When the cells in wrinkle creases plump up, the wrinkles appear less obvious. Most of the time this is not a permanent solution, and wrinkles reappear as soon as people stop using the oil; as a temporary fix, though, it tends to be quite popular.
Hair Thickness
Another benefit of castor oil for the face has to do with hair thickness. Men who are hoping to grow thick beards or mustaches sometimes rub small amounts into their stubble in hopes of improving follicle growth. People who want thicker eyebrows or eyelashes can do the same, often applying a few drops of the oil with a cotton swab. It often takes several months to start seeing results.
Application Tips
Experts usually recommend that castor oil be used sparingly on the face, in part because of how concentrated it is: using too much can actually cause breakouts and rashes by clogging pores. Most say to start with a freshly washed and dried face to prevent buildup. Using lukewarm water can be helpful for removing impurities, too. Water that is either too hot or too cold can cause the pores to close or shrink up, which makes treatments less effective.
Most skincare specialists also discourage leaving the oil directly on the skin for long stretches of time. General advice is usually to apply a light layer to the face and let it soak in for about five minutes, then rinse it away with cool water to close the pores. A second, very thin layer can then be applied overnight or under makeup. In the morning or at the end of the day, the oil should be removed with a gentle facial soap. This on-and-off routine can help keep the skin supple without inhibiting its ability to naturally regenerate with its own oils and lubricants.
AS FEATURED ON:
AS FEATURED ON:

By: picsfive

Castor oil can help improve acne and hydrate skin.

By: Sergey Yarochkin

Cotton swabs can be used to apply castor oil to the face.

By: Ocskay Bence

Castor oil may be applied topically to reduce acne breakouts.

By: BlueSkyImages

Caster oil may be used to thicken eyebrows.

By: lightwavemedia

It's important to apply castor oil to a freshly washed face.