How do I Start a Catering Business?
Starting a catering business is a popular venture, especially for those who have spent a great deal of time in the restaurant business, as well as homemakers who have spent time away from the business world while raising families. Experience in cooking and food preparation is certainly a first step, but there are other issues that must be addressed when starting any business. Whether a seasoned veteran in the restaurant world, or skilled home cook, the first step to beginning a catering business is to research the rules for small businesses as they apply to each person's location.
Many states will require a special license for starting any sort of business, and because catering deals with foods ingested by the public, there may be extra stipulations to be followed. Preventing foodborne illness requires proper preparation, handling, and preservation of foods. A call to the local health department is the best place to start. Most likely, this will involve an inspection of the catering preparation site before a license will be issued. A separate business license will probably require an application and fee paid to the state of residence, depending on the financial and legal set up desired.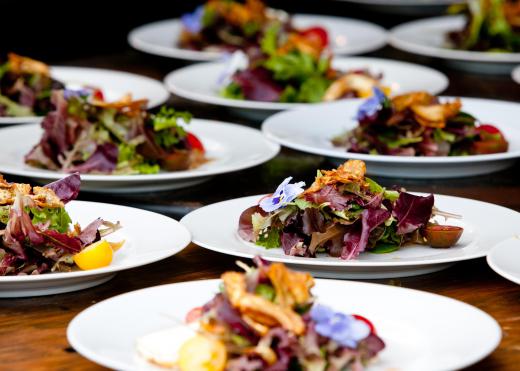 A business plan should be completed in which an aspiring caterer will determine location, targeted customers, menu, pricing, and suppliers. Much thought should be given to the local market for catering services, and caterers will need to find a balance between their specific cooking talents and the actual needs of the community they will serve. Decisions on how the money will be handled and recorded, payment policies, staff procedures, and all processes should be determined before the catering business is opened. Changes can be made as the catering business progresses, but rules should be in place from the beginning.
The biggest decision will be which of two categories the caterer will focus on: corporate catering or social catering? Corporate caterers provide boxed lunches, on-site food preparation for special occasions, business event catering, and catering for company holiday parties. Social caterers generally provide food for individuals at social events such as weddings, birthdays, anniversaries, or other celebrations. Once the category is decided upon, then the caterer can develop a suitable menu.
Pricing is perhaps the trickiest factor to consider when setting up a catering business. It is not enough to simply guess at the value of the product. Overhead, materials, labor, and profit must all be added together before determining prices. Financial records must be kept and all taxes must be paid. As with any business, the best course of action is to be a considerable amount of time in the planning stage.
AS FEATURED ON:
AS FEATURED ON:

By: Eric Limon

An aspiring party cater usually needs a good business plan to help him proceed through the start-up phase and operate a successful business.

By: Minerva Studio

To start a catering business, a basic business plan needs to be written.

By: malexeum

Food safety regulations must be followed by catering businesses.

By: Brent Hofacker

Catering businesses might specialize in finger food additions for parties.

By: detailblick.

Those just starting a catering business may offer discounted prices on cakes and snacks for a child's birthday party.