How do I Earn CNA Certification?
A certified nursing assistant, or CNA, is a certified medical professional who provides health care to sick and disabled patients. Nursing assistants perform a variety of tasks to help patients with their personal needs such as assisting with baths, feedings, getting dressed and hair grooming. Most assistants will take and monitor patients' vital signs as well. While nursing assistants are generally in constant demand, the job opportunities for a certificated nursing assistant may be more abundant. To earn a CNA certification an individual will need to complete a nursing assistant program and take the certification examination.
When pursuing a CNA certification a person should begin with graduating from high school. This is generally the minimal requirement to pursue this field of work. While in high school, a student may take a special interest in health, science and mathematical courses. These courses may better help a student prepare for work as a nursing assistant. Some students may volunteer at a hospital or nursing home for hands-on experience in working with people in medical need.
An individual interested in earning a CNA certification will need to choose an accredited school offering a nursing assistant program. Commonly, these programs are offered by community colleges and trade or vocational schools. While enrolled in a nursing assistant program, the student can expect to learn about general health care techniques, nutrition, medical ethics, anatomy and physiology. The student will also learn first aid, including cardiopulmonary resuscitation. Most programs will consist of oral lectures, tests and clinical lessons.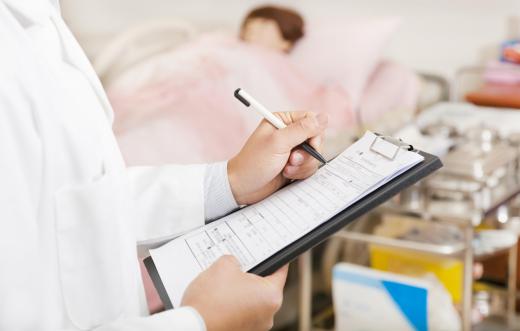 After graduating from the nursing assistant program, the individual will need to take the CNA certification examination. Most regions will charge a fee to take the exam. To prepare for this type of nursing certification test, an individual should study intensively and take practice tests, if available. Generally, the certification exam will consist of a written and a clinical portion. During the clinical portion, a student may have to demonstrate certain skills taught while enrolled in the nursing assistant program.
Once the CNA certification exam is successfully passed, the person may apply for a job as a certified nursing assistant. Nursing assistants who have been certified commonly work in nursing homes, rehabilitation centers, doctor offices and hospitals. Different regions will have a different set of requirements to earn a CNA certification. In most cases, a person will need to complete a CNA recertification exam every few years to keep his or her certification active. For this reason, knowing the regional requirements are very important.
AS FEATURED ON:
AS FEATURED ON:

By: michaeljung

A certified nursing assistant is responsible for taking and monitoring a patient's vital signs.

By: Tom Wang

A CNA is trained to read and understand medical charts.

By: Photographee.eu

A person will need to complete a nursing assistant program and take the certification examination in order to earn CNA certification.

By: Sandor Kacso

Some nursing assistants provide home health aide services.