How Do I Choose the Best Salon Equipment?
As a salon owner, the salon equipment you choose will usually depend on the services that your business offers, whether it is hair styling, skin care, massage, or tanning. The term equipment can refer to all necessary objects, from furniture to any supplies and products you need to operate your business. In general, your options for locating the best salon equipment can include local businesses, online distributors and wholesale outlets. Regardless of where you purchase your equipment, you should select the highest quality products that you can afford, thereby providing your customers with the level of comfort and service that they expect.
A typical hair salon offers hair cutting, styling, and coloring services. In general, salon furniture includes chairs for shampooing and styling the customers' hair, while some establishments also use separate dryer chairs. You should consider your clientele and their objectives; those concerned with the latest beauty trends will expect state-of-the-art styling equipment, while others simply want to feel pampered while sitting in a comfortable chair. If you have space constraints or budget limitations, then choose versatile items, such as a movable barber's chair that can be reclined next to a sink, instead of using a costly shampoo station.
Your hair salon equipment can also consist of hand-held blow dryers, curling and straightening irons, and other styling tools. Equipment costs can vary, and you may have to decide between a $75 flat iron and one for $300 or more, for example. If your budget allows, you should choose the best professional equipment that you can find, since cheaper items may not provide you and your clients with results that what more expensive options provide.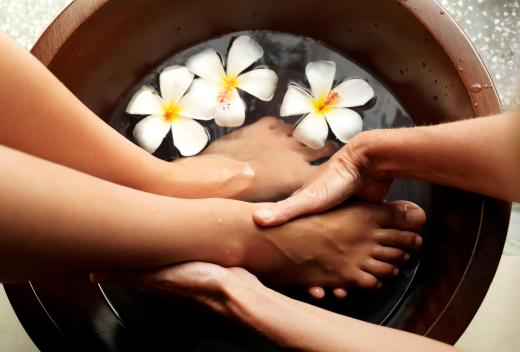 In addition to hair styling, many salons also provide nail services, usually requiring separate stations for manicures and pedicures. In addition to furniture such as tables and chairs, the salon also needs both overhead and task lighting, nail dryers, and airbrush machines. Furthermore, nail technicians typically use foot spas or tubs to provide pedicures. While salon equipment can be costly, it is not wise to compromise quality and safety when purchasing certain items. Manicure and pedicure equipment, for instance, must be clean and sanitary, since salons are subject to particular health standards in order to retain their licenses.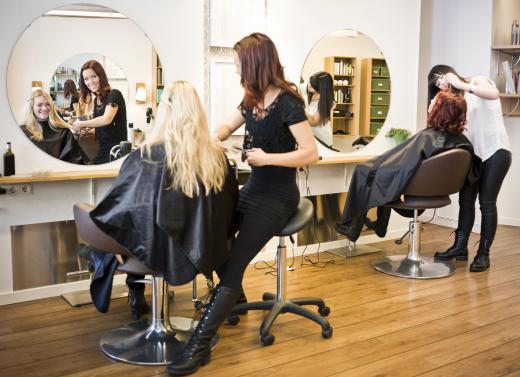 A number of beauty salons feature additional services such as skin care and massage therapy. Usually, you will need specialized chairs or tables for these procedures; in addition, such services generally require the use of table covers, towels, and other linens. When providing these services, it is important to give your customers a private, comfortable experience. The best furniture options are usually those that can be set up in a concealed area or a separate room.
If you own a tanning business, some examples of typical salon equipment include tanning beds and lamps. Spray tanning requires some unique tools, such as mist applicators and airbrush supplies. Additional helpful items include sheets and towels, protective goggles, and other accessories. As with nail salon equipment, health and safety considerations should be a deciding factor when choosing among tanning supplies.
Regardless of the type of salon you own, you will probably need some standard equipment in your common areas, such as a reception desk and chair, comfortable waiting area chairs, and shelves for displaying any products you want to sell. To keep track of appointments and process payments efficiently, you may want to purchase a computer, relevant software, and a credit card processing machine. Some salons provide certain amenities for their customers, such as beverages and snacks, so they often need equipment such as a coffee maker or water dispenser, along with cups and related items. Most salons also provide current magazines and other reading material, so you will need a storage or display area to keep the salon looking tidy.
When trying to choose the best salon equipment, you can find reputable suppliers by searching local directories of accredited businesses or researching online. Some items can be bought second-hand at a discount, if saving money is a priority. Though most state-of-the-art salon equipment will cost more, it is usually worth the investment when trying to provide the best services to your customers.
AS FEATURED ON:
AS FEATURED ON:

Many salons have water dispensers for clients.

By: Yuri Arcurs

A woman getting a pedicure.

By: gemenacom

Typical hair salons offer hair cutting, coloring, and styling services.

By: Rido

Tanning salons often have tanning bed services, which use UV rays to darken the skin.