How do I Choose the Best Propane Grill?
As the cold winter months pass away, it is inevitable that the mind turns to outdoor cooking. The idea of enjoying a peaceful summer night is somehow enhanced by the thought of hot dogs, burgers, or steaks sizzling on the propane grill. But, what kind of grill is best?
The first step in purchasing a propane grill is to locate the model that most closely fits your needs, for there are almost countless choices and options. If you plan on cooking simple meals for only themselves or a few friends, then a portable grill should be more than sufficient.
A portable propane grill is inexpensive, often costing under $30 US Dollars (USD). They are light, easily transportable, and will cook food quickly and evenly. Portable grills utilize a very small propane tank, and are perfect for camping excursions, trips to the beach, or backyard burgers under the stars.
However, if you intend to grill on a larger scale, preparing briskets, large slabs of ribs, turkey, or chicken, then the obvious choice is a backyard propane grill. These grills can cost from hundreds to thousands of dollars, depending on size and options. They can be freestanding, or built into a permanent brick or concrete patio set-up.
Still, no matter which version one chooses, there are certain constants that will indicate quality. Perhaps the simplest way to evaluate the quality of a grill is by looking at the material from which it is built.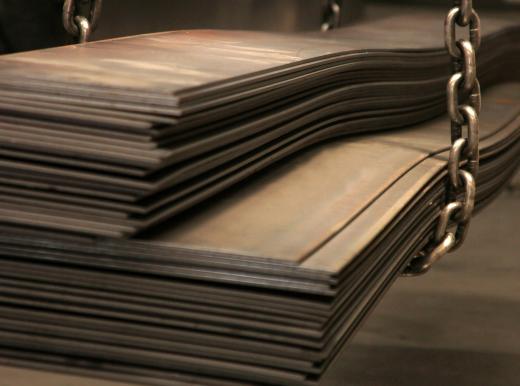 Grills are generally constructed of sheet metal, cast iron, cast aluminum, or stainless steel. In most cases, if the preference of professional chefs is any indication, the best choice is stainless steel. Make certain that the cooking chamber, the grill racks, and the frame are all crafted from stainless steel. Occasionally, manufacturers will paint normal steel so it appears to be stainless. In such cases, the legs of your shiny, new grill may be covered with rust in a few years.
Backyard grills offer a wide array of features. Multiple cooking surfaces, arranged as shelves, are very handy. Also, built-in side tables, where you can place food, sauces, and spices, will eliminate trips spent running back and forth to the kitchen. Multiple, built-in thermometers permit the cook to monitor the temperature in various sections of the grill.
Virtually every backyard grill is self-lighting, and includes temperature controls, and thermometers. But, not all of these features are of the same quality. This is one instance where it is a good idea to purchase a brand name, rather than a generic product, and fill out the warranty card. It seems to be a reality of life that the self-lighting button of a grill will be the first part to break. If one has purchased a brand name grill, replacement parts are easily obtained.
The best propane grill is the one that is sturdy and reliable, has the capacity one requires, and most important, provides the most fun for the cook.


A propane tank for a grill.

By: Jim Lambert

There are numerous considerations — including costs and needs — made when purchasing a propane grill.

By: Kybele

Sheet metal might be used to make a propane grill.

By: Monkey Business

A free-standing propane barbecue grill can be a useful addition to a patio or backyard.

By: amenic181

Propane grills can be used to cook racks of ribs.

By: Springfield Gallery

A propane grill should be large enough to cook large quantities of foods like hot dogs.