What is a Propane Fireplace? (with pictures)
The propane fireplace has emerged as a heating alternative for those who enjoy the radiating heat of a fireplace but do not wish to deal with the mess associated with traditional log fireplaces. A propane unit can come as a wall unit, an insert into a traditional masonry fireplace or a freestanding unit. There are advantages to each type of unit based on the set up of the home.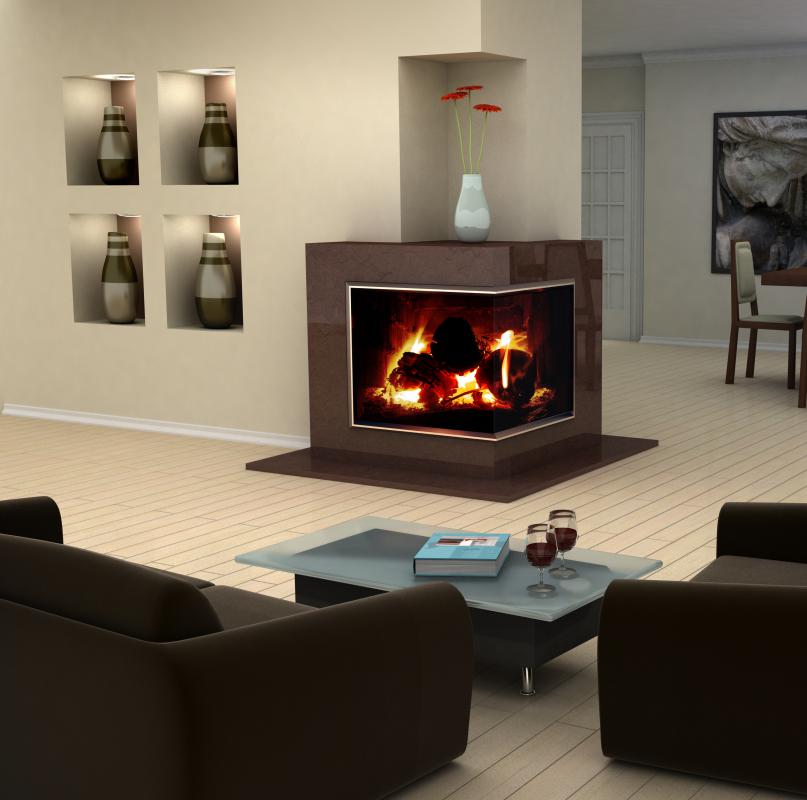 Propane can deliver efficiency that can not be found in wood burning units. The air is cleaner since there is no soot or ash escaping and there is no accompanying smell. The flame can be turned up or down with a simple twist of a knob, while the starter button on a propane fireplace makes for an easy flame. Heat is less likely to escape up a fireplace since a damper is not required. Heating runs at about 92% efficiency as opposed to wood which runs at approximately 60%, although cost effectiveness varies depending on local prices.
A propane fireplace insert is a popular choice for those who have a masonry fireplace already in place. These units slide into the hole that would have otherwise burned wood and a gas line connects from outside. Two tubes go up the chimney: one for fresh air to facilitate the combustion process and one to send the harmful exhaust out.
A wall unit propane fireplace fits into an opening cut in the wall. Drywall or plaster are cut away to the measurements required. A gas line runs from a tank outside. After the unit is placed, a mantel is built around the hole to beautify the space.
Freestanding propane fireplace units are able to be placed anywhere in the home. They generally do not have a vent and are therefore sometimes also called "ventless" propane fireplaces. Since they are freestanding, they are restricted in their placement only by the ability to run a gas line to them. Homeowners who choose this option should also plan to purchase carbon monoxide monitoring kits, as the ventless nature of the freestanding units can also allow for this harmful byproduct to be released into the air.
For those that enjoy the look of a wood fireplace but the convenience of propane, gas logs are a popular item. These refractory log look-a-likes fit inside the fireplace and a flame comes up from over top of them. It gives the warm appearance of the log burning without the mess and hassle of wood burning.
A propane tank holds fuel to power a fireplace.

A propane fireplace.