How Do I Choose the Best Executive Physical Examination?
Your executive physical examination should be thorough yet brief, with a physician who understands your needs and listens to your concerns. Be certain your executive physical examination includes a comprehensive series of tests that can be completed in one session. Vision and hearing tests should also be conducted. Your physician should ask for a complete history of your medical background and family history, as well. For optimal convenience, your executive physical examination should fit into your schedule without the need to miss a day of work.
Before choosing an executive physical examination program, check with your insurance provider to be sure your plan covers this type of program. Your workplace might have a list of executive physical examination programs to choose from. Read the details carefully before making your decision. When you call with inquiries, try to establish credentials of all the participating physicians, as well as their specialties.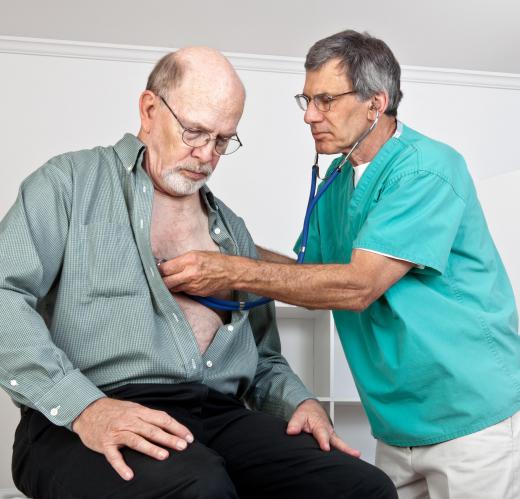 Any medical concerns or special needs you have should be addressed during your executive physical examination. In addition, the physicians should note any special accommodations you require or physical restrictions necessary on the job. Executive physical exams need to provide assessment of your physical limitations as well as your strengths.
The best executive physical examination will include an assessment and profile of your family's medical history, including any conditions that may be considered hereditary, such as diabetes, heart disease, or certain types of cancer. If you are at high risk for a disease, the physician should be willing to design a program that would promote a healthy lifestyle for you. If the executive exam does not include this type of plan, you might want to look elsewhere for your examination.
Follow up care and consultation after your executive physical exam should be a priority. Physicians should call you to schedule a follow up examination if necessary. Ask if this courtesy is provided before you schedule an appointment.
If you're concerned about diet and nutrition, inquire about nutritional counseling. If your examination offers this option, be certain it includes consultation with a certified nutritionist. You may also need to check with your insurance company to see if any expense for this service will be reimbursed.
Costs are a major consideration for many who opt for executive physical exams. Your insurance could cover a portion, but laboratory work might not be covered. Some executive physical examination programs offer discounts for senior citizens or those with disabilities, and you should inquire about that if applicable.
AS FEATURED ON:
AS FEATURED ON:

By: forestpath

An executive physical exam should be brief yet thorough.

By: Monkey Business

An executive physical examination should be conducted by a physician who understands the patient's needs.

By: s_l

If possible, examine the credentials of all participating physicians, as well as their medical specialty.

By: Edyta Pawlowska

Follow up care and consultation after an executive physical examination should be a priority for patients.