How do I Become an Animal Caretaker?
An animal caretaker works with animals to make sure they are fed, well taken care of, and are comfortable and healthy. It is the caretaker's job to make sure the animals under their watch are happy and have everything they need. It is a tough job and, while it is not for everyone, it can be quite rewarding. Although a degree or certificate may be required for some jobs, the elements often most important in becoming an animal caretaker are patience and a willingness to learn about and work with animals.
Someone who is an animal caretaker can care for animals that are a range of shapes, sizes, and species. He or she can work in a variety of places, including kennels, zoos, animal hospitals, or independently. In some cases, the hours can be quite long, considering that the animals do not usually have the ability to fend for themselves. It also may require working on weekends and holidays.
A degree is not necessarily required to become an animal caretaker, although some positions may require a certificate. Depending on the intended job, a degree in Zoology can be advantageous. In some cases, on the job training is a good way to get valuable experience.
Volunteering is an excellent way to gain experience even when a job is not possible at the time; many animal rescue groups rely on volunteers to help care for the animals. Another method to gain knowledge of caring for animals is to own them before you become an animal caretaker. For example, if working at a kennel is a job possibility in the future, owning and caring for a dog on a daily basis can give insight on everything from their behavior to illnesses.
To become an animal caretaker requires the knowledge of how to keep things clean and sterile. Animals must be kept in a clean environment not only for their safety, but also just to be comfortable. It will likely be necessary to clean up fur, fecal matter, urine, vomit, and blood. Whether you are cleaning it out of their living quarters, off the animal, or off yourself, it is important to deal with it in a hygienic and calm matter. Staying calm can help the animal regain composure and stay calm as well.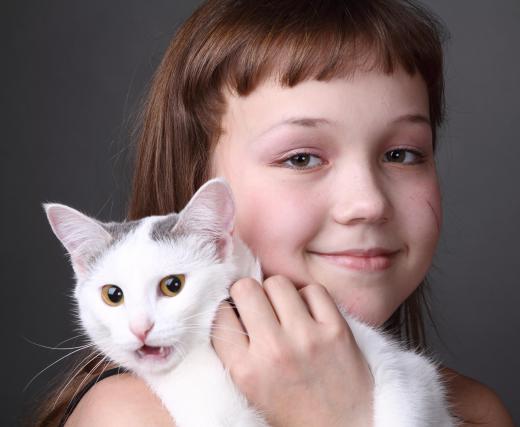 Patience and compassion are two of the characteristics needed to become an animal caretaker. Animals are not always going to behave in a way that humans expect. Sometimes they bite, claw, scratch, or simply will not do as asked. Knowing how to relate to them on an animal level and not expect them to behave as a human would is incredibly important. Exhibiting these traits can help in the present and any future jobs.
Being an animal caretaker is rewarding, but stressful. To become an animal caretaker takes a lot of heart and energy. It is a commendable job and the animals almost certainly appreciate all the love and consideration that they get.
AS FEATURED ON:
AS FEATURED ON:

By: Andres Rodriguez

An animal caretaker makes sure the animal is happy and has all the things it needs.

By: Gorilla

Children learn valuable lessons like responsibility, compassion, and patience when they take care of an animal.

By: Сергей Чирков

Animal caretakers must be caring and compassionate toward the animals they are working with.

By: leungchopan

Animal caretakers may work with veterinarians to rehabilitate injured or abandoned animals.

By: caspernhdk

Animal caretakers might have experience with livestock.