Philip Glass—who along with Steve Reich, Terry Riley, and La Monte Young led the turn to minimalism in the 1960s—was born in Baltimore in 1937. He began violin lessons at six and flute at eight. His first compositions were written when he was 12, and he entered the University of Chicago at 15, obtaining his degree at 19 in 1956. He experimented with 12-note composition, but had given it up by the time he graduated and left to take extension courses at the Juilliard School.
After earning his tuition working as a crane operator at a steel company, he returned to Juilliard to enroll, receiving diploma in composition in 1959 and a Masters in 1961, studying with Bergsma and Perischetti, and then attending Milhaud's summer course in Aspen. During his time at Juilliard, he experimented with a wide range of musical genres, scored music for dance, and studied film scoring, creating the foundation for a wide variety of his later work.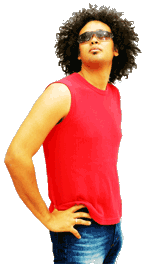 Glass was awarded a Ford Foundation Grant, and then a Fulbright, which allowed him to study with Nadia Boulanger in Paris for two years. While in Paris, he was hired to describe some of sitar player Ravi Shankar's music, and Indian music became an important influence for him. Before returning to New York in 1967, Glass traveled in North Africa and India, and upon returning to New York, he and Reich began performing in each other's ensembles and analyzing each other's work.
As Glass developed his musical style, he also established the Philip Glass Ensemble, for whom he wrote most of his work and who were the sole performers of most of his work. His work in minimalism peaked, and his later style, dubbed "maximalism" debuted with his opera Einstein on the Beach in 1976, which was primarily focused on music for dance, film, and theater, as opposed to concert performance.
His 1980 opera Satyagraha, about Gandhi, and 1984 opera AkhnatenHamburger Hill and The Truman Show, as well as Koyaanisqatsi: Life Out of Balance, Godfrey Reggio's 1982 first film in a trilogy that explores by juxtaposition of music and images the relationships between and among nature, humans, and technology. Other collaborators include Allen Ginsberg, Paul Simon, and Ravi Shankar.
AS FEATURED ON:
AS FEATURED ON:

Man with hands on his hips