In the world of rock and roll, few other guitarists can be credited with revolutionizing the capabilities of the guitar, and the rock sound in general, than Jimmy Page. Born and raised in England, Jimmy Page became a staple studio musician throughout the 1960s, playing with a multitude of bands and musicians who craved a solid, talented guitarist for their records. After Page had honed his skills as a musician in the studio setting, the stage was set for his own musical creation, the groundbreaking rock band, Led Zeppelin.
Originally, Jimmy Page played with the already established British rock/psychedelic band, The Yardbirds, teaming up with the likes of guitarist Jeff Beck. The band enjoyed moderate success but began a rapid decline after Beck quit the band. In order to keep the tour going, Jimmy Page brought vocalist Robert Plant, bassist John Paul Jones, and drummer John Bonham on board. The newly reformed band, under Jimmy Page's creative lead, finished that tour and eventually changed their name to Led Zeppelin, a label originally coined by John Entwistle of The Who.
With his new lineup and a wealth of ideas for the band's future, Jimmy Page took the creative lead on all subsequent Led Zeppelin albums. A revolutionary rock and roll musician, Page began tinkering with new sounds and electronic effects, such as a reverse tape delay that essentially reversed the notes picked on a guitar. While it is debatable who invented this technique, Page has, in interviews, laid claim to its discovery and implementation.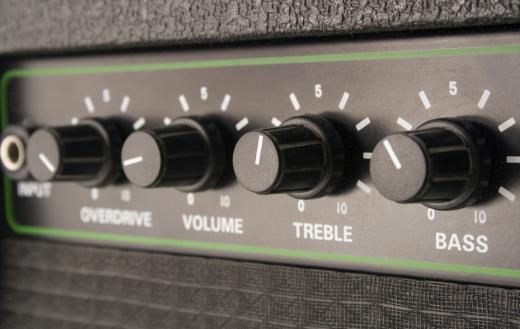 One technique Jimmy Page did not invent, but certainly made famous, was his practice of playing his guitar using a violin bow, which created a unique sound not widely heard on rock and roll records in the past. He was also notorious for using a double-neck guitar, heard on such famous recordings as "Stairway to Heaven." While certainly an extremely experimental musician, Jimmy Page sought to create a sound that combined the elements of already-established genres such as blues, rock, folk, and jazz, thereby creating a sound the rock and roll world had not heard before. He largely succeeded in this endeavor.
Jimmy Page's signature sound stemmed from his equipment: a Gibson Les Paul guitar played through Marshall amplification. He used various effects, such as a wah pedal, to create his signature sound as well. For his double-neck guitar, he typically used a Gibson 1275 that had a body similar to a Gibson SG but with two necks, one a typical six-string and the other a twelve-string.
Page's influence on Led Zeppelin waned in the 70s as his drug use began to affect both his creative output and his physical and mental health. He had less creative input on Led Zeppelin's studio albums as he spent more and more time doing cocaine and heroin. In 1980, Led Zeppelin's drummer, John Bonham, died after a day and night of binge drinking, choking on his vomit while he slept. Not long after that, Jimmy Page kicked his drug habit, but Led Zeppelin had already disbanded as a result of Bonham's death. Despite this truncated ending, Jimmy Page continued to be known as a prolific guitarist and as an innovative musician, combining technological advancements and a thorough understanding of music genres to create a revolutionary sound in rock and roll.
AS FEATURED ON:
AS FEATURED ON:

By: Richard Villalon

Jimmy Page gave up heroin and other drugs after drummer John Bonham's death.

By: matt&stustock

Jimmy Page typically played through a Marshall guitar amplifier.

By: Vitezslav Halamka

Jimmy Page played several different kinds of guitars.

By: ronstik

Jimmy Page had less musical influence over Led Zeppelin when he started using cocaine more frequently.