When are Alcoholic Drinks Free on Flights? (with pictures)
As airlines continue to trim their budgets, fewer amenities are offered. Free drinks of any kind may soon be endangered. Most U.S. airlines serve free alcoholic beverages to passengers in the first class, and sometimes in the business class cabin. Those in economy must pay for their miniatures.
First class and business class tickets may cost two to three times (or more) as economy class tickets. Most U.S. airlines figure this entitles these passengers to a few more perks, including free drinks. First and business class seating is roomier and while those in the cattle car in the back are paying $3 or $4 US Dollars (USD) for a box containing chips, a stick of beef jerky and a pack of cookies, the first and business class passengers are receiving free gourmet lunches and free alcohol.
These passengers also receive their free drinks straight from the bottle. In economy, miniature bottles of alcohol are sold for about $4 USD apiece, and the airline only stocks a certain amount of bottles of each variety. In first class, the drinks also include the flight attendant mixing cocktails. In economy, when a passenger asks for a Bloody Mary, for instance, he gets a cup of Bloody Mary mix and a miniature of vodka.
Some of these rules change on international flights. Passengers in economy may be able to order free drinks on long flights, and international airlines may offer them to all passengers at all times.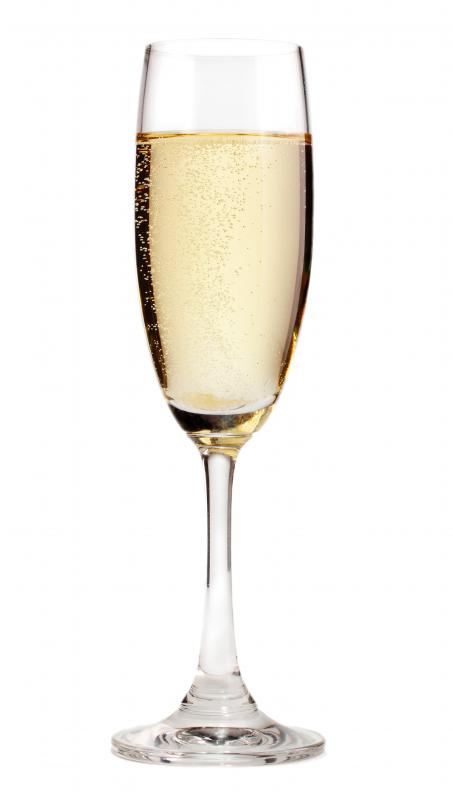 Occasionally, free drinks may be offered as a result of a special occasion. This author was on a flight to Reno, along with a wedding party. The group drank all the vodka miniatures onboard, and the flight crew also gave the happy couple a bottle of champagne normally reserved for first class. It was a nice gesture.
Getting free drinks of the alcoholic variety on a U.S. flight is rare, though, and is likely to become even less common as budget cuts further affect onboard amenities.
Small bottles of liquor are often free in first class and business class.

Those in economy seating rarely receive free alcoholic drinks.

Champagne is often served in the first class cabin.

Alcoholic drinks are usually free in first class.

First class is roomier and offers more comfortable seating than economy class.

Business-class seating usually comes with free alcoholic drinks.

Many plane passengers like to order Bloody Mary's during flights.