What Was the Golden Spike? (with pictures)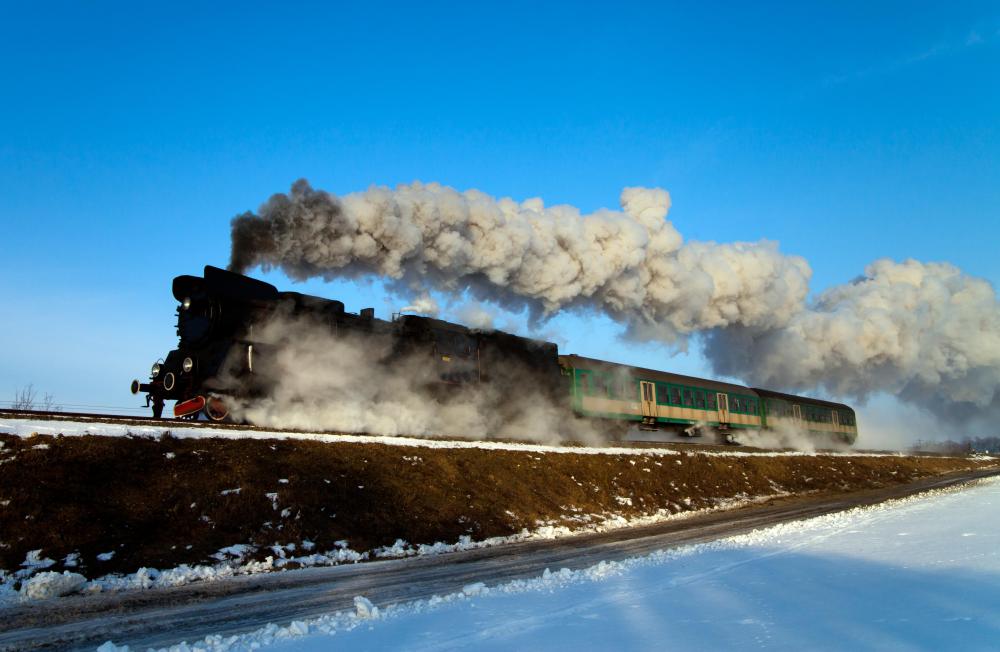 The Golden Spike was a commemorative railway spike manufactured to celebrate the completion of construction on the Transcontinental Railroad, the first railroad to stretch all the way across the United States. In a heavily publicized ceremony in 1869, the Golden Spike was ceremonially driven into the last railroad tie, officially joining the two halves of the railroad, and a telegraph message announced "DONE" to the world. Promptly after the ceremony, the spike was removed, and replaced with a regular spike.
The Transcontinental Railroad was an ambitious cooperative project involving the Union Pacific Railroad and the Central Pacific Railroad. The two worked from opposite ends of the country, laying tracks which eventually met in Utah Territory. Realizing the magnitude of the event, the heads of the railroads decided to hold a formal ceremony to celebrate the completion of the track, and contractor David Hewes suggested manufacturing a ceremonial golden spike, silver spike maul, and a special railroad tie made from California laurel wood for the event.
For the ceremony, two locomotives were drawn up on either side of the track to face each other, and Leland Stanford, head of the Central Pacific Railroad, drove the spike into the specially prepared tie. Historical accounts of the event vary; some people said that Stanford was unable to push the spike all the way in, and as a result an ordinary rail worker took over for the last few blows.
Once the Golden Spike had been admired in situ, the spike and special tie were removed, and replaced with an ordinary tie and a regular iron spike in a "Last Spike" ceremony. The spike went on display before being returned to David Hewes, who ultimately donated it to Stanford University, where it remains on display today. In addition to the original Golden Spike, at least two replicas were made, along with a silver spike, and pieces of the spike were also used to make watch fobs for prominent railway officials.
The Golden Spike is commemorated on the Utah state quarter, and numerous other railroads followed the example of the Transcontinental Railroad in the decades to come, manufacturing their own commemorative engraved spikes. These items reside primarily in private collections today, although some history museums with an interest in transportation have managed to obtain golden and silver spikes linked with various railway ceremonies.
Once the transcontinental railroad was completed, the Atlantic and Pacific coasts of the United States were connected via rail transport.

A telegraph message said "DONE" to announce the completion of the Transcontinental Railroad.

The Golden Spike ceremonially connected the two halves of the Transcontinental Railroad in Utah.