What Skills Do I Need as a Boxing Manager?
The skills required by a boxing manager depend on the relationship between the boxer and his or her manager. Even so, many professionals in this field find that a particular style of management creates more efficient and effective boxers. Former boxers occasionally go on to be managers, and having skills relating to the sport of boxing is important. Interpersonal skills, however, are likely the most essential to a boxing manager's job. In many cases, the only way to obtain the skills needed to become a boxing manager is to get involved in this aspect of the sport and learn from experience.
Most of the time, a boxing manager needs skills that are related to boxing, but not actual boxing talent. Knowing how the sport works is essential, and having an understanding of the ideal development of a boxer is also important. These skills can usually be developed either by working with young boxers or by being a boxer.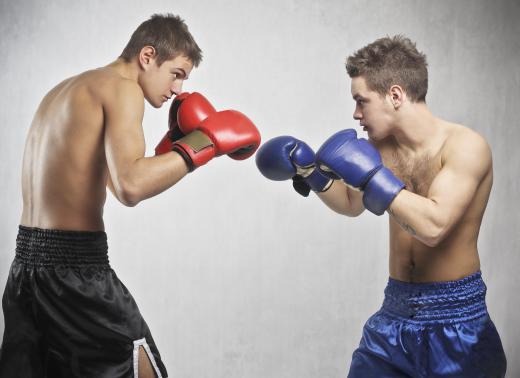 Interpersonal and business skills are very important, because even a great boxer needs marketing. Finding sponsors, opportunities, and lucrative matches requires both finesse and business smarts. Being personable is not enough for a boxing manager, as making compromises and striking bargains may need an aggressive touch.
One of a boxing manager's most important skills is keeping his or her boxer content while representing his or her own interests. Athletes do not always have a reasonable understanding of what they should be paid or the opportunities available to them. Boxers may threaten to find new management when unhappy, and a manager's livelihood may depend on the boxer. Managers need to be able to work with strong personalities in order to keep themselves financially secure.
Basic legal skills can be very helpful for a boxing manager, as working with contracts is often required. Having a contract that explicitly identifies the manager's rights and responsibilities is always a good idea. Understanding contracts is also important when signing a boxer up for events and even sponsorships. A manager does not need the skills of a lawyer, but he or she should be able to read and understand this type of document.
One of the most important talents a manager can acquire is intuition about which boxers are potential winners. Finding young boxers to manage requires all of the above skills, but selecting the right boxer to shape into a champion may require more than a simple analysis of his or her fighting style. Intuition often comes with experience, and the best way to develop this skill is to get involved in boxing in whatever way possible.
AS FEATURED ON:
AS FEATURED ON:

By: olly

Boxing managers should understand how to develop and train boxers.

By: Jason Stitt

Boxing managers not only make sure boxers are trained well, but also handle their marketing and finances.