What Should I Know About Taking an Adult Ballet Class?
People who do not enjoy going to the gym in order to workout should consider attending an adult ballet class. Regularly attending an adult ballet class provides several benefits. Ballet improves posture, increases flexibility, encourages weight loss, and challenges both the body and mind.
Spending an hour in ballet class helps people forget the stresses and worries of the outside world. This is because performing ballet correctly requires complete concentration. It's nearly impossible to worry about outside matters when a dancer is trying to perform a movement or step to the best of her ability.
Once a person decides to attend an adult ballet class, she must make sure she enrolls in a class that suits her level. Beginners should attend a basic beginning class. It's important to observe a class before deciding to enroll in it, since schools vary in their definition of a "beginner." It can be frustrating to try to keep up in a class if the students are more advanced. The dance instructor should be able to help a beginner decide which class is best for her.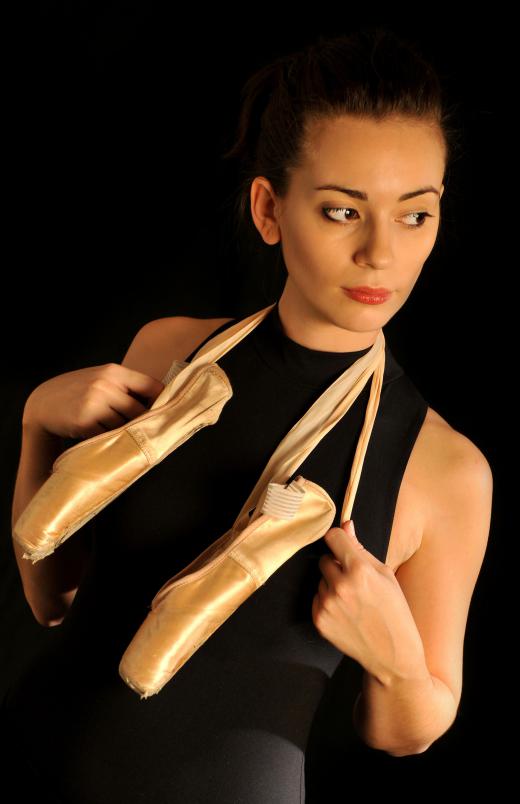 Adult ballet classes usually allow students to wear any type of clothing for the class; however, it's best if an adult student wears tight-fitting clothing. This allows the dance instructor to see if the dancer is positioned incorrectly. Women's typical clothing for a ballet class includes a leotard and tights, but shorts, leggings and yoga pants can also be worn. Men can wear a t-shirt, sweat pants, or shorts.
Shoes are an important piece of equipment in the dancer's life. They are made from either canvass or leather. New adult students should buy their dance shoes at a dancewear store. The employees at the dancewear store can help the dancer find shoes that properly fit. New dancers should avoid purchasing ballet shoes from an online store since it's impossible to try them on before purchasing the shoes. Women should not wear pointe shoes — blocked shoes that allow the dancer to stand on the tips of the toes — if they are beginners. Wearing pointe shoes requires years of training so that the muscles become strong enough to withstand the strain of dancing on point.
Remember to wear the hair away from the face and neck. Some dancers with long hair pull it into a bun. Others braid it or put it in a ponytail. At any rate, hair should never be allowed to whip about the face in ballet class. It can obscure the vision and looks unprofessional in the dance studio.
Adult students should arrive early for an adult ballet class so they have ample time to stretch before the class starts. A typical ballet class begins at the barre, a long rail attached to the wall. Opposite the barre is a full length mirror that allows dancers to check to see if they are holding their bodies correctly. Students perform a series of leg and arm movements while holding the barre for support.
After the barre, the students progress to the middle of the floor for center work. In the center, dancers work on balance and footwork. First they begin with slow, adagio movements. Gradually the exercises move to quicker movements, turns, and jumps. The class usually lasts for one hour. After each class, dancers are left with sore muscles.
Remember that each person learns at her own pace. Do not be intimidated by those in an adult ballet class who seem to learn more quickly or appear to be more flexible. Don't force the body into positions that it cannot do. This will only lead to injury. It's important that an adult ballet student focuses on developing her own mastery of ballet, as ballet is an art that requires gradual progression of skill level. Concentrate on molding a strong, healthy body. Ballet will assist in this goal. Committing to ballet classes two or three times a week will help an adult lose weight, improve posture, elongate the body, develop toned muscles, and build self esteem.


By: Aleksandr Doodko

Ballet improves flexibility.

By: KABUGUI

Ballet, which gained popularity in France, is a type of performing arts.

By: Massimo Paradiso

Beginners should not wear pointe shoes.

By: Zsolnai Gergely

Ballet can help those who struggle with coordination.

By: milan2099

Ballet may help improve a person's posture.

By: NorGal

Choosing the right ballet shoes can help protect the feet against injuries.

By: VladGavriloff

Taking an adult ballet class may help an individual tone her legs.