What Should I Include on a Medical Technologist Resume?
The information included on a medical technologist resume should be the technologist's education, such as clinical training, internships, area of specialization, work experience independent from internships, skills and publications. She also should show her licensure and certifications, including the corresponding reference numbers. Additional but less crucial information to include might be multilingual status and agency affiliations.
A basic piece of data that should be on a medical technologist resume is where the technologist attended school and the degree obtained. In the United States, technologists are differentiated from technicians in that they have to have a minimum of a bachelor's degree in medical technology or a life science; technicians need a certificate or associate degree. If a person cannot show they have had at least four years of formal medical technology training, they may not qualify for a technologist position, although some employers will consider individuals with less education if they have considerable hands-on work experience in the industry.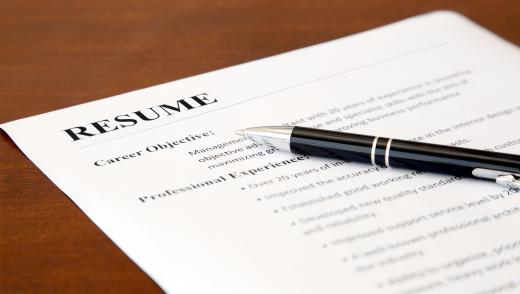 Medical technology programs provide formal clinical training, but individuals also can pursue additional internship work following their degree. A technologist should list any internships she has completed, as this work is valuable field work that sets candidates apart from those who have not had the extra supervised training. She should identify the name of the institution at which the internship was completed, as well as the name of the direct supervisor. Similar to the information included in the work experience section, a candidate should identify key responsibilities handled during the internship period, preferably using verbs to describe what the candidate did.
It is not unusual for a medical technologist to pursue an area of specialization. For example, technologists may work in clinical chemistry, hemotology, microbiology, toxicology, urinalysis, immunohemotology or blood banking. Candidates should show their specialty area, as it might not be obvious from previous work experience. The technologist may do this under the education section, or by identifying the certification number they have obtained from a certifying agency in their specialty area.
Jurisdictions require medical technologists to be licensed in most cases. In addition to certification numbers, the technologist should provide their license number. This allows the employer to verify the licensure with the issuing agency. Employers consider this important not only because they want to comply with current regulations, but also because licensure indicates the candidate has met specific educational and skill requirements necessary for safe, satisfactory patient care.
Next, the medical technologist resume should describe the candidate's work experience. If a candidate is very new to the field, internships can substitute for this section, because employers understand that recent graduates will not yet have had an opportunity to work outside of educational programs. Work experience should include the hospitals, clinics, laboratories or other facilities at which the candidate was employed, the dates of employment, and the most significant duties and accomplishments.
The last critical data set someone should include on a medical technologist resume is the skills and qualifications they possess. For instance, they might indicate they are proficient in clinical microbiology, lab equipment calibration, lab testing and reporting, and quality control. Additional skills include items such as time management, organization and the ability to discern details, but these must be presented in a quantifiable way if possible to avoid the employer perceiving them as generic. Individuals may indicate the level of the skill, the last time the candidate used the skill, and how much experience the candidate has in the skill area.
An optional section to include on a medical technologist resume is publications. This is applicable to any technologist who has participated in research studies related to medical technology, although not all technologists have bylines to include. Publications show the technologist has pursued additional knowledge in the field actively, that they have collaborated with other professionals in the industry, and that they have been able to conform to industry standards to produce new data.
Technologists also may include information such as their agency affiliations on their resumes. It is acceptable to include other data such as additional languages spoken, as well. These pieces of information are not as critical to landing a medical technologist job — the most important factors are education, experience, skills and qualifications — but they may give a candidate an edge depending on the particular circumstances of the employer and the work environment.
AS FEATURED ON:
AS FEATURED ON:

By: NAN

A resume should include detailed information about your educational and employment background.

By: perfectmatch

Technologists may work in clinical chemistry, hemotology or microbiology.