What Should I Include on a Medical Receptionist Resume?
Crafting a strong medical receptionist resume is a good way to catch the eye of a prospective employer. When building a resume, it is important to include information that is pertinent and reflects well on the job-seeker. Education, job history, skills, and references are good sections to include on a medical receptionist resume.
When writing an education section, consider adding any information that may give an employer clues to personal skill sets and abilities. It is generally only necessary to include educational data from post-secondary schools, such as community college, universities, or trade schools. In addition to providing the names of the schools and the degrees or certificates achieved, consider adding any accolades, scholarships, or awards received while in school. While these may not relate directly to medical receptionist work, they can let employers know that a job candidate has a history of high achievement.
Job history is one of the most important sections to include on a medical receptionist resume. Try to include jobs that are relevant to the position sought; for a medical receptionist, this might include any office work, internships at a medical practice, customer service jobs, or prior secretarial positions. If there is available space, include some of the daily tasks from prior jobs that might serve as preparation for a medical receptionist position. Knowledge to highlight might include customer service tasks, scheduling, filing, and data entry. Any prior medical office work, such as experience handling medical billing, insurance coding, and patient scheduling, should certainly be included.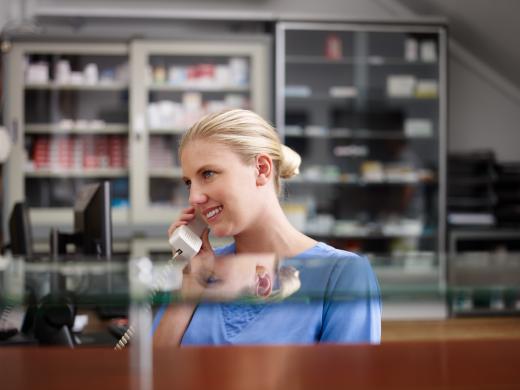 The core skills listed in a medical receptionist resume help employers understand what makes a candidate uniquely suitable for a job. Skills that might be pertinent to a medical receptionist include fluency in multiple languages, conflict management training, typing speed, and skills gained in a medical office environment. When citing computer skills, be sure to include information about competency with specific operating systems, medical software, and relevant programs that might be used in a medical receptionist job.
Including references with a medical receptionist resume can let prospective employers know that a job candidate is willing to back up his or her statements. For greater impact, try to include references who serve in managerial or supervisory roles instead of co-workers or friends. Be certain get permission from references before including their names on a resume, and make sure they are willing to give a positive report to new employers. If a resume is a few years old, contact references to make sure their phone number and email address is still accurate.
AS FEATURED ON:
AS FEATURED ON:

By: Elenathewise

A medical receptionist's resume should include mention of the software she's familiar with.

By: diego cervo

It is generally a good idea to include job history on a medical receptionist resume.

By: NAN

Including professional references on a medical receptionist resume may be appropriate in certain situations.

By: Lisa F. Young

A resume submitted to a medical receptionist job could mention customer service experience or public relations experience.