What Should I Include on a Makeup Artist Resume?
When creating a resume for a makeup artist, the document should include the artist's personal information, previous employers or clients, educational background and skills and techniques the artist has. This is similar to the resume for other workers, but the type of work a makeup artist does, as well as the lack of standardized educational requirements, affects presentation. It also is acceptable to include quotes from previous employers or clients on a makeup artist resume, although this breaks away from the traditional resume mold slightly.
The first thing that must go on a makeup artist resume is basic information about the applicant, such as her name, address, email, fax and phone numbers and website url. This information allows the recipient to contact the makeup artist with ease if the resume piques interest. Typically, this information is at the top of the resume, often centered.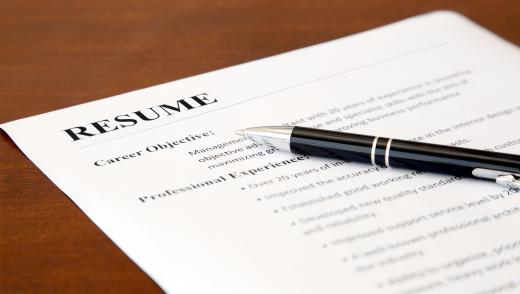 A makeup artist resume also should include a list of the artist's previous clients or employers, organized by genre. Although a resume should be only one to two pages, a larger number of individuals or companies in this list shows that the artist has significant experience, which can set the artist apart from competitors. Examples of areas from which the makeup artist can pull include photography, weddings, television shows, magazines, commercials, film and video. Although it is standard to list experience in reverse chronological order, it can make sense to put employers or clients who are nationally or internationally known and who thus have the most weight at the top of their section.
Of equal significance to previous clients or companies for a makeup artist resume is the applicant's educational background. Individuals can enter the field through self-instruction, working through a makeup manufacturer or by going to makeup or cosmetology school. Of these options, makeup or cosmetology school is the most formal, providing certificates or licensure that shows a particular level of competence. Even though no formal education is required to work in the industry, employers do consider training in hiring decisions, with experience becoming increasingly important the less formal training the artist has.
Once an individual has outlined her education and experience, she should identify her skills and the techniques with which she is comfortable. Examples might include familiarity with bridal or theatrical makeup, use of a particular makeup application tool or having the ability to manage those on a makeup team. It is imperative that these skills and abilities be phrased with active verbs that show what the artist did; the artist should avoid generic adjective phrases.
Lastly, if room is still available on the document, a makeup artist resume should include positive quotes from clients or previous employers. These serve as a more creative way compared to a traditional reference list for the artist to show what others thought of her work. Similar to the experience list, data should be reverse-chronological or based on the weight the client or company has.
AS FEATURED ON:
AS FEATURED ON:

By: NAN

A resume should include detailed information about your educational and employment background.

By: Viktor Pravdica

A makeup artist applies blush to a woman's face.

By: Deklofenak

A makeup artist may provide makeup at a wedding.

By: xalanx

A good makeup artist should have an array of eyeshadow colors.

By: Chris Tefme

A makeup artist resume should include positive quotes from clients or previous employers.