What Should I Include in a Business Wardrobe?
All business wardrobes should include at least one suit. Several pairs of dress pants or skirts should also be included and complemented with contrasting dress shirts or blouses. If you have only one pair of shoes, they should be black and made of leather. You will also need basic color hosiery and a black professional bag or document holder.
Before you consider the exact contents of your business wardrobe, you need to understand that all items should meet a certain standard. You may not be able to afford rare, imported fabrics or brands, and there is generally no need to even try to acquire these items. There is nothing wrong with making a bargain purchase, but you must realize that your business wardrobe should not look cheap. It is essential for you to learn what quality looks and feels like before you begin making purchases.
Every business wardrobe should include a suit. If you are just entering the professional arena or are about to do so, you may have to start with only one. You will, however, need to acquire more as your budget affords you the opportunity. For a woman, it is usually best to make the first suit one that includes a skirt. Both males and females should avoid choosing colors or patterns that are flamboyant or part of a current fad.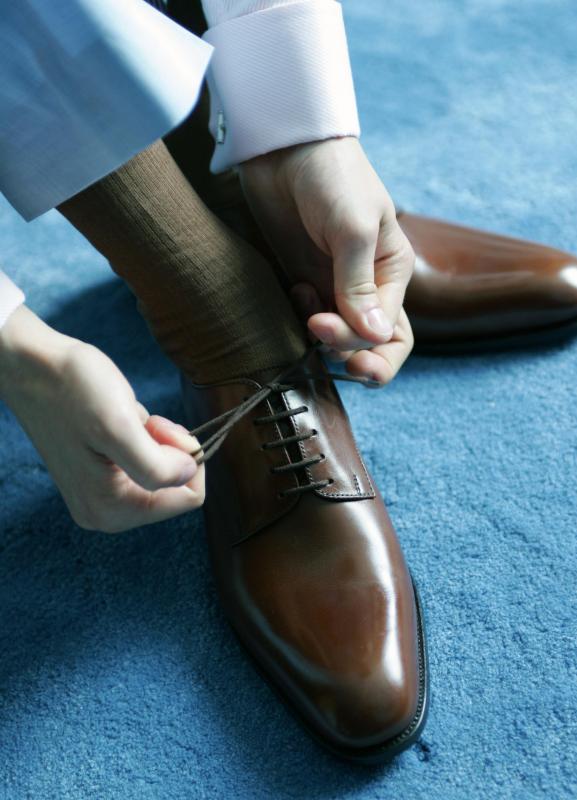 A business wardrobe is not complete without a pair of genuine leather black shoes. Unless there is a medical reason prohibiting it, a woman should invest in pumps. Getting shoes that are flat or those with heels that are too high can send the wrong impression. Men should choose a lace-up pair of shoes as opposed to a slide-on. The selected pair should have a classic toe shape and should not have showy designs.
The female's business wardrobe should also include several skirts and pairs of dress pants that obviously differ, but not because they are too flashy. It is best for skirts to at least come to the bottom of the longest finger when your arms are laid flat by your sides. Avoid buying skirts that have long splits in them. Complement your skirts with blouses of a contrasting color, such as a navy blue skirt with a white top.
Men should invest in several pairs of dress pants in different colors, such as black, navy blue, and taupe. Your pants should barely rest on the tops of your shoes. If they are too short or too baggy, you will look unprofessional. Complement your pants with contrasting dress shirts in colors such as light blue and white. Use sensible neckties to add personality to your selections.
When assembling your business wardrobe, do not overlook hosiery. Women should have several pairs of well-fitted pantyhose. Acceptable colors for a professional environment include nude, brown, and black. Both males and females need black dress socks. Also invest in a leather bag, laptop case, or document holder.
By: Tombaky

For men, a dress shirt and tie are considered proper business attire.

By: terex

Pantyhose should be included in a woman's business wardrobe.

By: Speedfighter

Men should wear lace-up shoes to the office.

By: Jouke van Keulen

A woman's business wardrobe should include basic black pumps that can be worn with almost any outfit.

By: Kadmy

Black, polished dress shoes are viewed as an integral part of a man's business-attire wardrobe.