What Should I Expect from Foot Surgery? (with pictures)
When go into the hospital or clinic for foot surgery, whether minor or major, there a few things you should expect. First, you will likely be referred to an internist to ensure that you are healthy enough to undergo the operation. Second, you will be prepped and directed for surgery so that you will be well-prepared for the operation.
Your doctor or surgeon will probably notify you of any medications you will need to stop taking the day before the surgery. Food and drink may also be prohibited twenty-four hours before the surgery is set to begin. If you do not follow these directions, your operation may be postponed. Certain medications can interfere with anesthesia and cause complications.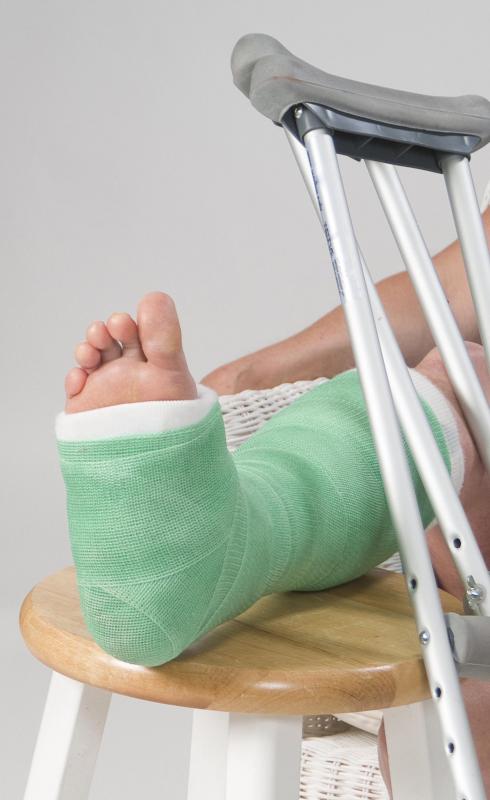 Once you are in the hospital to ungergo foot surgery, you will generally be examined again and your vital signs may be taken. Assuming everything still looks normal, you will then be given anesthesia to prevent you from feeling the surgery taking place. In some cases, you may remain slightly alert during the operation, but you will feel no pain while the doctor operates. After foot surgery is complete, you will be moved to recovery. For minor foot surgery, you may get to go home the same day. If you will be admitted to the hospital for one or more days, you will be wheeled into your room.
During your hospital stay, you will likely be given pain medication, either through an IV drip or orally. This will help you heal more comfortably. You will also probably undergo physical therapy as soon as the day following your foot surgery. Therapy will help you regain full use of your foot sooner, as well as speed up the process of healing.
The doctor will likely discharge you no more than four days after the surgery is complete. At that time, you will generally be given oral pain medication and careful instructions on how to care for you healing foot. You may also be asked to return to the hospital or to another facility to continue with physical therapy. Be sure to follow your doctor's instructions closely to avoid any complications.
Although foot surgery is generally a routine operation, all surgery carries some level of risk. Be sure to discuss any side effects or potential problems that could arise during or after your surgery. If you are overly concerned, discuss any alternatives that may be available with your doctor or surgeon.
Hospital stays after foot surgery are usually no longer than four days.

It's common for a patient to need a cast following foot surgery.