What Should I Expect from Aerobics Classes?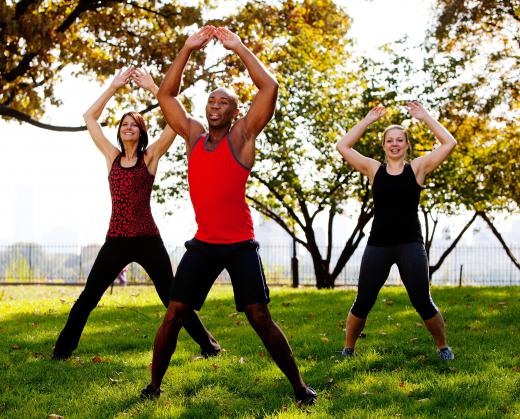 Aerobics classes can be a great way to lose weight, get in shape, and to become more motivated by the energy of a group class. Most aerobics classes are fairly similar, depending of course on the type of aerobics being offered. Many fitness centers also allow members to try out a number of different classes before signing up for one, which can be a great way to learn what to expect from a class before making a commitment.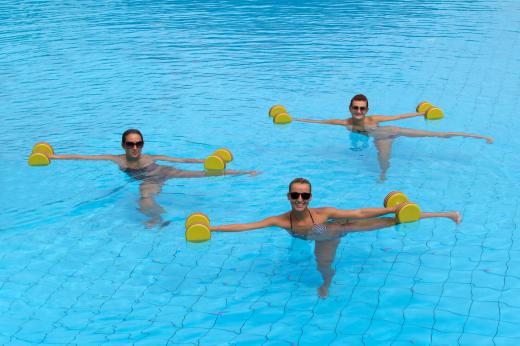 There are many different types of aerobics classes to try. A "standard" aerobics class might simply feature a series of moves such as steps, sidesteps, and jumping jacks, among others, and may require the use of an aerobics step. The step will typically be provided by the fitness center; it will not be necessary to bring your own. This is one of the more common types of group aerobics.
In addition to this type of aerobics class, others such as water aerobics, low impact aerobics, dance aerobics, or kickboxing aerobics are also quite popular. In water aerobics, the class takes place in a pool, and participants get their heart rate up and build their strength by using the resistance of the water. This type of aerobics, along with low impact aerobics, is great for people who are recovering from an injury, or who are just getting into exercising.
Aerobics classes that combine aerobics with another activity, such as dance or kickboxing, can be a fun and interesting way to exercise. These classes are typically more challenging, and are intended for people who are in better physical shape. These are often very high energy classes as well. These are just a few of the aerobics classes options available; check at your local gym for options. Another option is to rent or purchase a DVD in order to exercise in the privacy of your own home.
Most aerobics classes will be structured very similarly, with a warm up period of a few minutes, followed by the aerobics period where the heart rate is elevated for 20 to 30 minutes, which is then followed by a cool down period. It is important to gently stretch the muscles during the cool down period to prevent tightness and injury. Most aerobics classes do not feature a break, but it is important to stay hydrated throughout the class, and to stop and rest if you feel dizzy or lightheaded at any point.


By: Tyler Olson

Jumping jacks are often part of a standard aerobics class.

By: american911

Water aerobics is an exercise performed in a pool.

By: anyaivanova

It is important to remain hydrated while exercising.

By: .shock

Some aerobics classes combine exercise with another activity, such as dancing.

By: william87

Step aerobics classes are generally quite basic, featuring only a handful of simple moves.

By: .shock

Step aerobics routines can be tailored to target specific areas of the body and different fitness levels.

By: michaeljung

Most aerobics classes are fairly similar, depending on the type of aerobics being offered.