What Should I Consider When Getting a Pedicure?
Some women hide their feet in sneakers, loafers or sandals that cover most of the foot. Others show their feet in thongs or skinny sandals. Those who show their feet, and occasionally those who don't, may want to get a pedicure. A pedicure is a manicure for the feet.
A pedicure will usually take about 30 minutes, depending on the services offered. A basic pedicure will include a foot soak, having the toenails trimmed and shaped, having the cuticles trimmed and the calluses pumiced, and finally having the toenails painted. Some salons offer extra services such as foot massage, hot paraffin baths and even salt or kelp wraps. The whole idea is to make the feet look as attractive as possible.
A woman considering a pedicure will probably want to see if the salon she regularly goes to offers the service and how much it costs, along with what services are included. If pedicures are not offered at her regular salon, she can often look in the yellow pages to see what salons in her area do offer them.
Pedicure prices vary depending on the salon and the services. A basic pedicure will usually be about US$20, and prices increase from there. One option for a less expensive pedicure may be to go to a cosmetology school which offers beauty services to the public. A woman would probably receive a pedicure from a senior student, and the price might be as low as US$5-$10. Since a pedicure is much more difficult to mess up than a haircut, a woman can probably get a pedicure at a cosmetology school with confidence.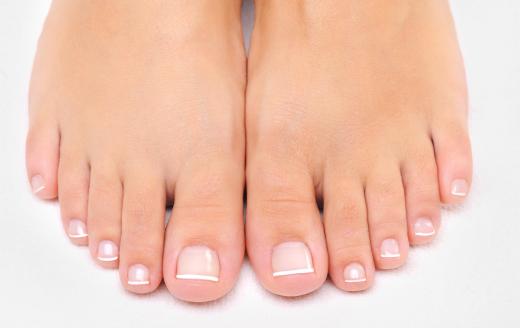 One other point to consider is what to wear for a pedicure. Short skirts or short-shorts could be problematic, since the pedicurist may elevate the legs to do the work. Pants that are easily rolled up are probably the best option. Also, the pedicurist should receive a tip, usually about 10-20 percent of the fee depending on the services rendered. For especially good service or extended services, the tip should be about 30 percent.
AS FEATURED ON:
AS FEATURED ON:

By: Jan Andersen

A person having a foot soak as part of a pedicure.

By: Valua Vitaly

Toenails with a French pedicure.

By: Maksim Kostenko

Metal orange sticks are used to push the cuticles back.

By: Valua Vitaly

Pedicures are often finished with an application of nail polish.

By: Anyka

A basic pedicure will include the use of pumice on calluses.

By: Gennadiy Poznyakov

A foot massage can sometimes be offered along with a pedicure.

By: mettus

People getting a pedicure should consider the type of shoes they will be wearing following the treatment.