What Should I Consider When Buying an Electric Grill?
An electric grill is perfect for the cook who enjoys grilled food but doesn't want to go outside and fire up the gas or charcoal grill during inclement weather. While an electric grill doesn't always allow for you to have that charcoal or hickory smoked flavor you enjoy so much on your barbecued ribs, it's a convenient alternative to the frying pan or oven broiler. You can't go wrong with an electric grill in your kitchen; just be sure to choose the one that works best for your needs.
Before you purchase an electric grill, ask yourself if you have room for one more appliance. If so, where will it be kept? Will one of your cabinets have enough room to store the grill when not in use, or will you have to lug it out from a hall closet every time you want to cook with it? You'll also want to consider how much available counter space you have. Will you be able to spare the space when it's time to bring out the electric grill for cooking? Take careful measurements and bring them with you when shopping for your electric grill.
It's important to choose an electric grill that cleans up easily. A non-stick surface is very important. You don't want to spend hours scrubbing chicken fat out of all the grill's nooks and crannies. Drip pans for the fat are another important factor. Knowing where the grease goes while cooking can mean the difference between a clean countertop and a messy cleanup.
The outside casing of the grill should wipe clean easily as well. The purpose of an electric grill is convenience. Choosing an electric grill that's difficult to clean only ensures it a spot in the appliance graveyard on the top shelf of your pantry.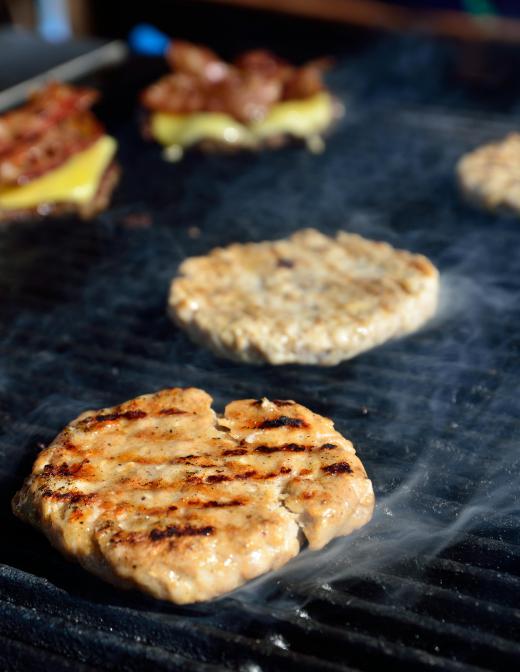 Read some product reviews before shopping to see which electric grill has received the best rating. Make sure to read expert reviews based on consumer testing as well as customer testimonials. Know what the most important elements are for your needs. For instance, do you need all the bells and whistles, or is it enough that the grill is compact, cooks evenly and cleans up in no time?
An electric grill is perfect for an apartment dweller or for someone who enjoys grilled food, but doesn't want to deal with propane tanks or charcoal briquettes. If you're looking for an electric grill, it wouldn't hurt to research a few first. The perfect electric grill is sure to get a lot of use; the wrong grill becomes clutter.
AS FEATURED ON:
AS FEATURED ON:

By: Monkey Business

A free-standing electric barbecue grill can be useful for outdoor parties.

By: noppasit

An electric grill is safer to cook meat because it doesn't leave a residue the way charcoal does.